As much as we love our cozy little kitchens, they can be a bit challenging to work in, especially when you're struggling for counter and storage space. Enter the hero of the hour: the island cart. A kitchen island on wheels is a versatile piece of furniture that can add some much-needed storage and counter space to your cooking area, all while giving your kitchen a stylish upgrade. And let's face it, who doesn't love a good upgrade?
In this post, we'll look at the top 10 island carts under $200 for small kitchens that are worth the money. I'll give you the lowdown on each product, including its unique features, benefits, and drawbacks.
Whether you're into classic wood designs or sleek metal finishes, I've got something for every taste and style. So, pull up a seat (preferably at your new island cart), and let's get started on finding the perfect fit for your small kitchen.
Some of the links in this post are affiliate links. This means that if you click on a link and purchase the item, I may receive a commission at no additional cost to you. I only recommend products that I believe will add value to my readers. Read the website's disclaimer here.
If you're in a hurry, this is our top picks:
Space-saving: 4.5/5
Storage capacity: 4.6/5
Sturdiness: 4.2/5
Maneuverability: 4.9/5
Price: $$
Size (W x H x D): 41.3″W x 35″H x 18.89″D
Material: Wood
Space-saving: 5/5
Storage capacity: 4/5
Sturdiness: 4.4/5
Maneuverability: 4.8/5
Price: $$$
Size (W x H x D): 22.8″ W x 33″ H x 15.7″ D
Material: Pinewood
Space-saving: 3.8/5
Storage capacity: 4.8/5
Sturdiness: 4.0/5
Maneuverability: 4.2/5
Price: $
Size (W x H x D): 33.85″W x 33.85″H x 11.81″D
Material: Engineered Wood, Metal
Factors to consider
Before we begin, there are a few factors that I used to compile the list. They are as follows:
Size and Shape: The size and design of the island cart should be proportional to the size and layout of your small kitchen. It should fit snugly without crowding or impeding movement.
Storage Capacity and Options: I believe that storage is a critical component of an island cart. I'd want to select a cart with plenty of storage capacity, such as shelves, drawers, and cupboards.
Mobility and Flexibility: If you have a small kitchen, a cart that is easy to move around will help you make the most of your limited space. Choose a cart with wheels that can be locked when needed. Think about how many things the cart can do, like being a place to prepare food, a place to serve food, or a bar cart.
Material and Durability: Of course, no one wants to change the kitchen island all the time; the budget for a small kitchen does not allow for it. The material of the island cart will influence its durability and upkeep. We will choose materials that are durable, easy to clean, and able to withstand wear and tear.
Style and Design: Last but not least, the style and design of the island cart should suit the decor and personal taste of your kitchen.
That's it for the criteria; now let's get started!
10 Best Island Cart For A Small Kitchen Under $200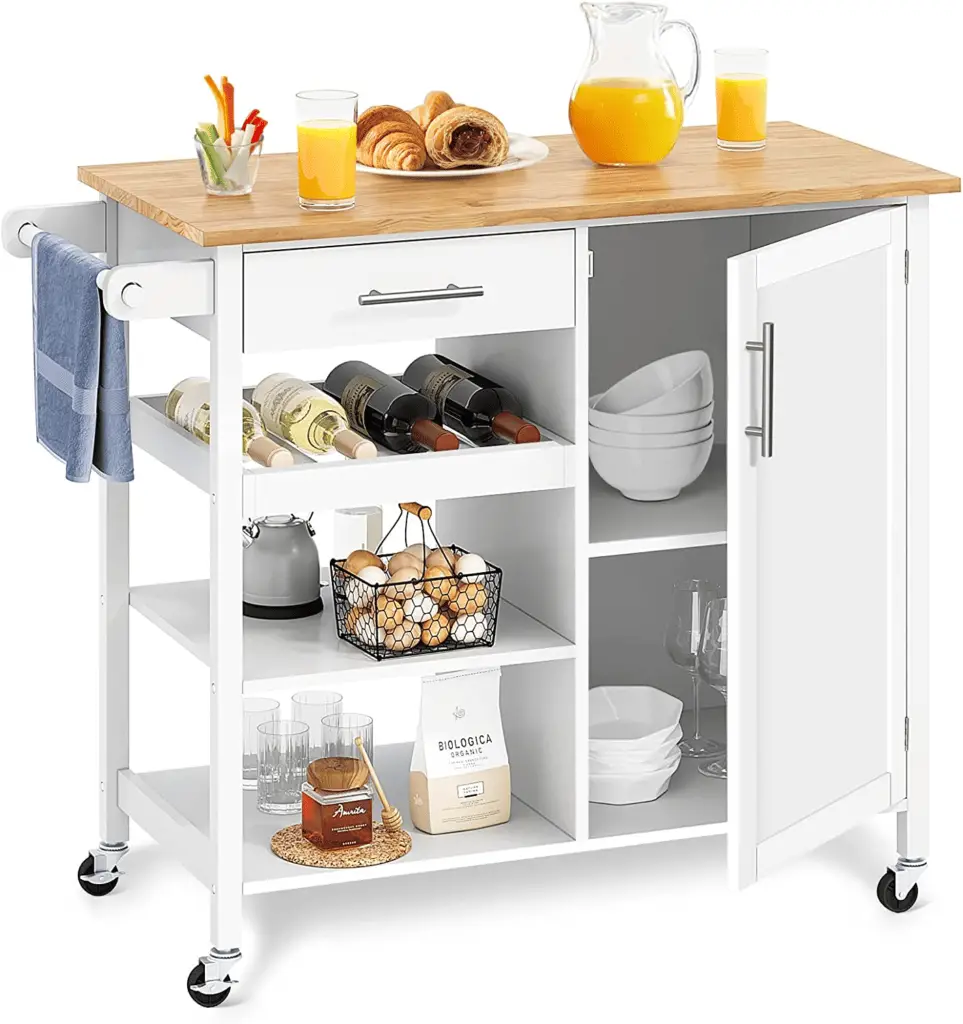 The YITAHOME Rolling Bar Cart is a versatile kitchen island cart that can be used to store more of your cooking tools and ready-to-eat food. Measuring 18.89″D x 41.3″W x 35″H, this cart is perfect for those looking for a functional and stylish addition to their kitchen.

The cart is built with a thick pine wood top and P2 grade MDF for stability and durability, and the food-safe finish ensures easy cleaning and food preparation. With 360° industrial wheels and a side push handle, this cart is easy to move and can bear heavy loads without breaking.
Pros
Cons
My personal notes:
Its robust structure and ample storage capacity amazed me. The large wood top was perfect for all the food preparation I needed to do, and the shelves and drawers helped me keep my kitchen items in order.
With its 360° industrial wheels and side push handle, the cart was very easy to maneuver. Nevertheless, assembly was difficult and took me several hours to accomplish. Additionally, the wheels don't really lock if you don't do it properly, causing the cart to move too much for my liking. Overall, I'd recommend this cart to anyone who wants to add something stylish and useful to their small kitchen.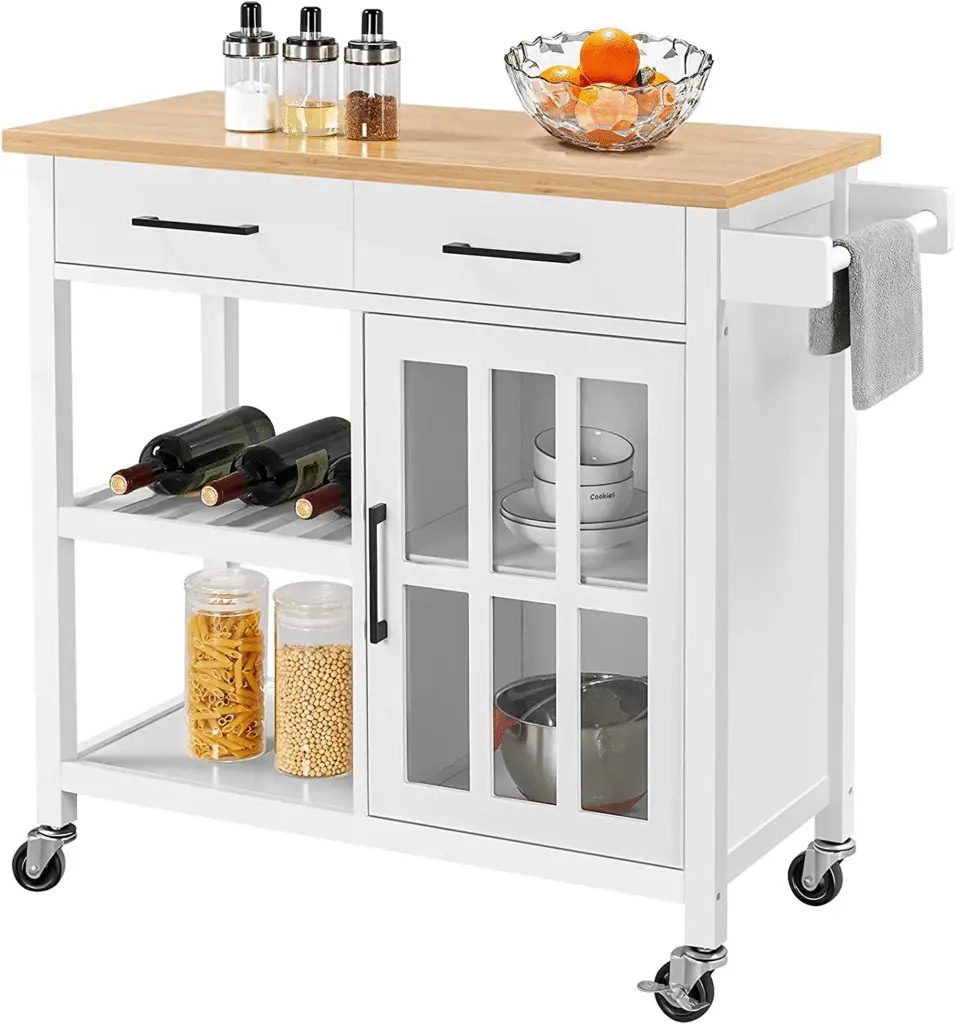 The Yaheetech Kitchen Island is an elegant and versatile kitchen island that is perfect for both classic and contemporary kitchens. The island sports a natural bamboo work surface that measures 91.5 cm (36″) long and 45.5 cm (18″) wide, providing extra elbow room as you prep, serve, and stow.
The island's wheels make it simple to move, and the two locking wheels ensure that it stays in place when necessary. To fit your storage needs, the internal shelf of the glass door cabinet can be raised to three different heights. This island is simple to assemble, with step-by-step assembly instructions and numbered pieces and hardware, and an Allen Key is included for your convenience.
Pros
Cons
My personal notes:
The Yaheetech Kitchen Island is a great addition to any kitchen, but it works especially well in small kitchens. The painstaking task of assembling the island is well worth it in the end. The island is durable and offers additional counter space, which is ideal for food preparation. The adjustable shelf in the glass door cabinet is also useful for fitting a variety of storage requirements. It's easy to move about thanks to the caster wheels, and the two locking casters keep it in position when needed.
However, the wheels may leave black marks on the floor at first, but this is easily cleaned. Overall, the Yaheetech Kitchen Island is an excellent purchase that is a must-have in any kitchen.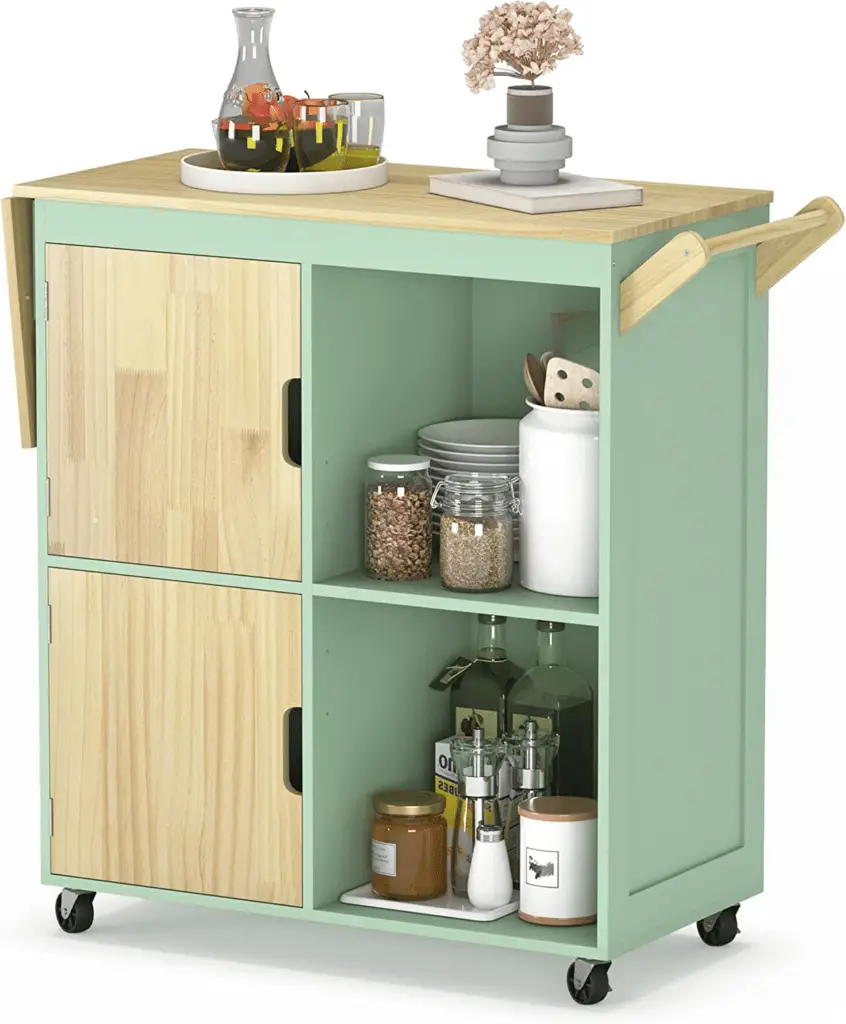 This Nordic-style wooden bar cart will add a touch of class to your next social gathering. This rolling island is made of high-quality pine and MDF material and comes with a foldable drop leaf that improves the usable area when needed and saves storage space when not.
With 360-degree wheels and two casters that can be locked, this mobile kitchen island can be used in restaurants, bars, living rooms, or anywhere else you want. It also has a lot of storage with adjustable shelves and comes with everything you need to put it together. Furthermore, the lifetime customer service guarantee ensures your complete happiness.
Pros
Cons
My personal notes:
My kitchen will greatly benefit from the Usinso Rolling Kitchen Island. Its 360-degree wheels and lockable casters make it a breeze to move about. The foldable drop leaf is a fantastic feature that expands my usable surface when needed while saving storage space when not in use.
My pots, pans, and cookbooks are also well-organized thanks to the movable shelves. Even though putting it together took a while, the instructions were easy to follow, and all of the hardware was included. The only issue I had was with the flimsy support bar during building, but it's solid and looks excellent once it's put together.
A little note is that this kitchen island has a specific color tone, so consider mixing and matching it with your small kitchen color schemes to ensure it maximizes your kitchen area rather than breaking it.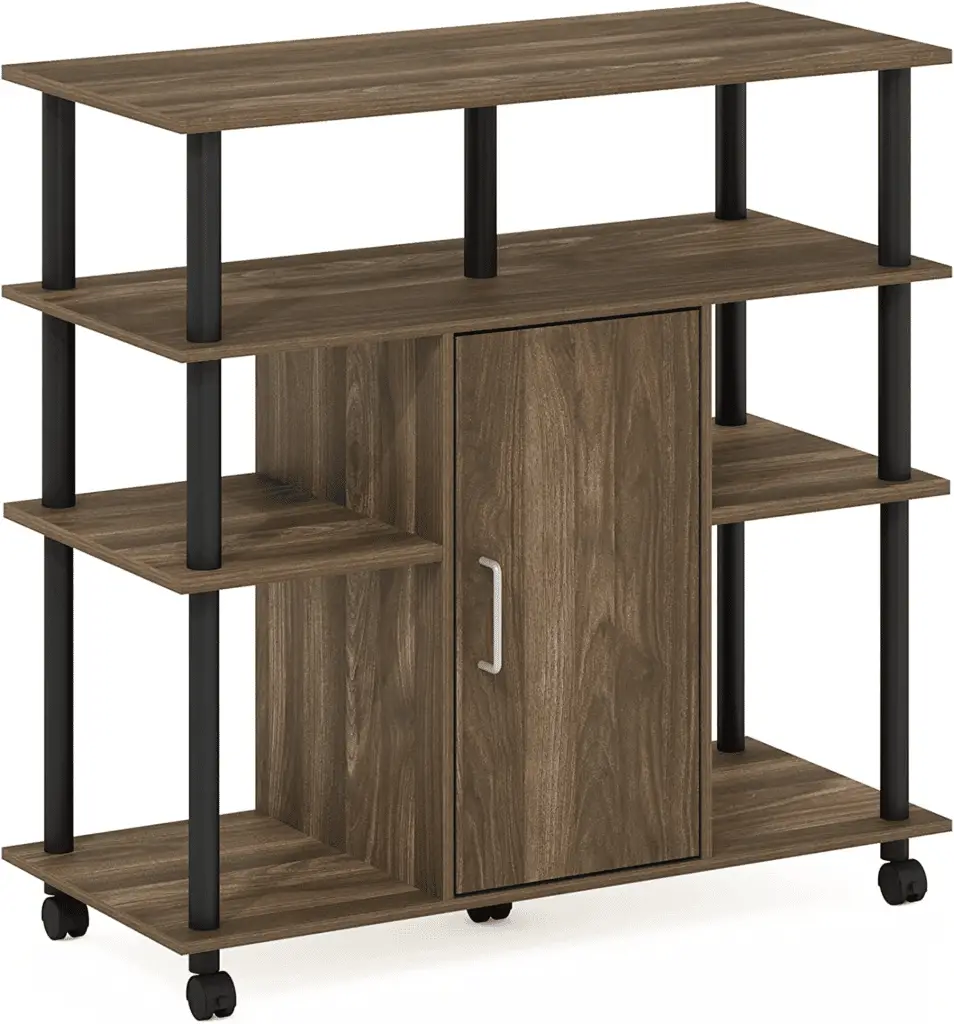 The Furinno Helena Utility Kitchen Island and Storage Cart on Wheels is a stylish and functional kitchen cart that provides additional counter and storage space. The kitchen island has a cabinet and shelves on either side to store all of your cooking equipment and utensils.
It is simple to install and composed of long-lasting CARB Grade composite wood that is stable and odorless. The product also comes with detailed, step-by-step assembly instructions and all essential hardware.
Pros
Cons
My personal notes:
The assembly is simple, and it only took me a few minutes to put it together without the use of any special equipment. I was able to keep all of my cooking equipment and utensils in the cabinet and on the shelves because there is enough storage space. The design is modern and beautiful from an artistic point of view, and it will fit in with the decor of any room.
But the plastic tubes could be stronger, and I wish the supporting rods were made of metal to better hold the pressed particle board. Overall, this kitchen island represents good value for money.
This island cart is ideal for anyone wishing to increase storage space in their kitchen while retaining a modern and streamlined appearance. With features such as a utensil organizer, enough storage space, and a retractable kitchen island, this cart is not only elegant but also functional.
The four smooth wheels make moving it about your kitchen a breeze, and the strong materials provide durability and stability. This cart is a wonderful addition to any home, thanks to its simple construction and experienced service staff.
Pros
Cons
My personal notes:
As someone who enjoys cooking and baking, I thought the TIUEKES Kitchen Island Cart would be a great addition to my kitchen. It was really simple to put together, and the materials felt robust and long-lasting. I was able to keep all of my cooking supplies and spices organized thanks to the large storage space, and the moveable kitchen island was an added plus.
I also liked how the smooth wheels made it simple to maneuver around my kitchen as needed. Overall, I would suggest this cart to anyone who wants to add more storage space to their kitchen while keeping it looking modern and nice.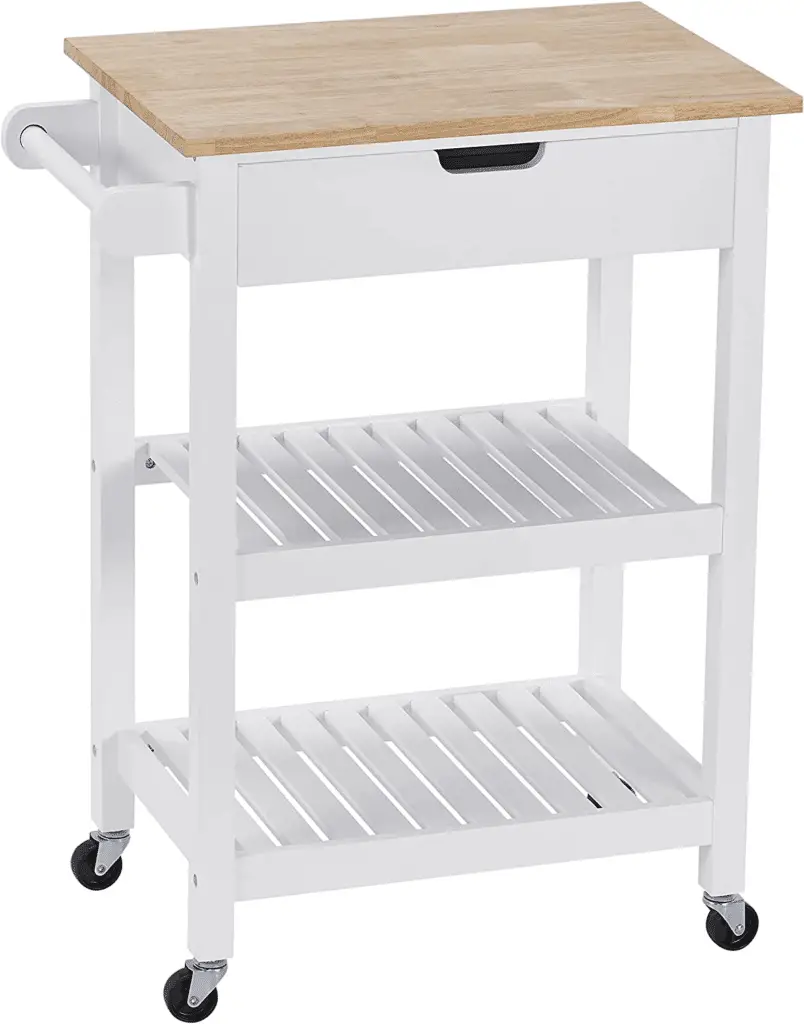 The Conifferism White Multifunctional Utility Cart is an excellent choice for anyone wishing to increase kitchen storage and counter space. The cart is constructed of high-quality materials such as pinewood, particle board, and MDF, and it has a rubber wood top that is both sturdy and environmentally friendly. It has two open shelves and one drawer for plenty of storage space, plus it's built to keep bottles from falling.
The cart is also lightweight and easy to maneuver thanks to its four locking wheels and durable and lightweight frame structure.
Pros
Cons
My personal notes:
Overall, the conifferism White Multifunctional Utility Cart has exceeded my expectations. It was simple to put together and took me about an hour and a half. The instruction booklet was very clear and easy to understand, and all of the pieces were clearly numbered. The cart is quite strong, and the wheels roll smoothly, making it simple to maneuver about my kitchen.
I appreciate the cart's enormous storage space, and the rubber wood top is both functional and easy to clean. My only quibble is that the cart is lower than my counters, but this isn't a deal breaker. I'm also a little upset that the screws that hold the two sides of the shelves together are visible, with no plugs to cover them, but this isn't a deal-breaker for me.
Overall, I think this is a great product that provides excellent value for the price.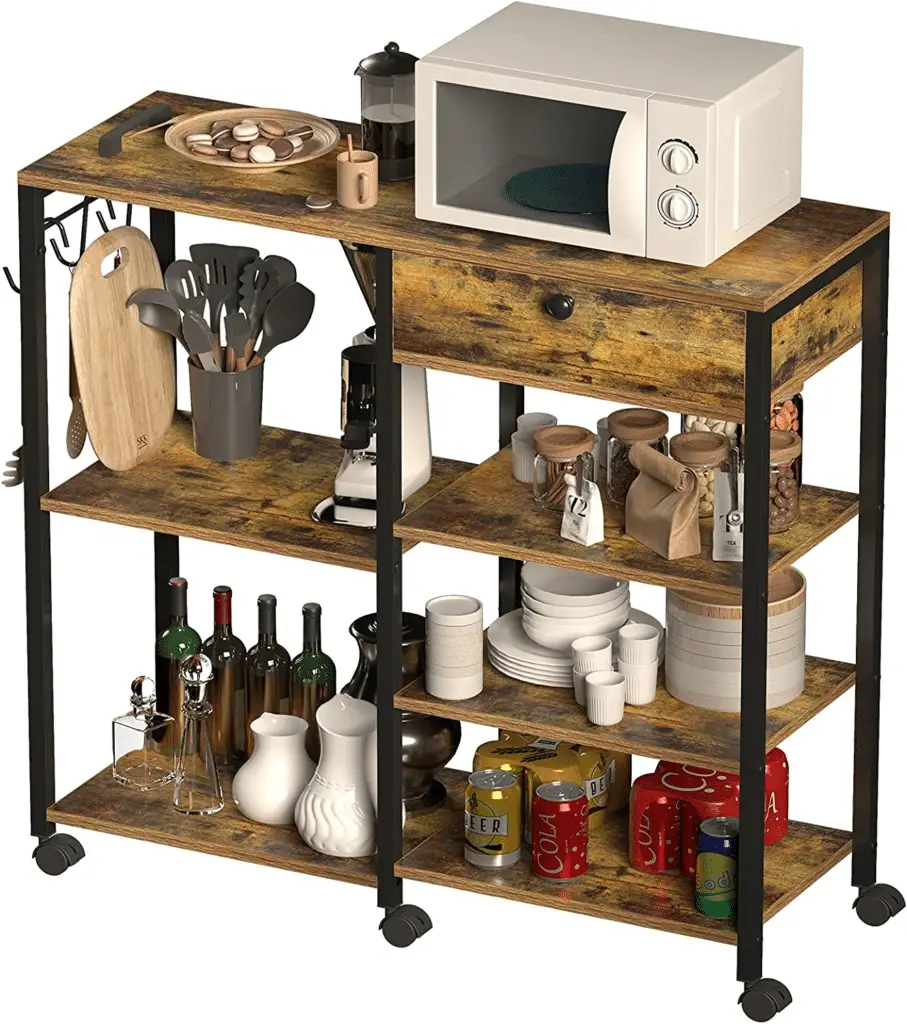 The Frunimall Kitchen Island On Wheels is a versatile and beautiful addition to any home. This kitchen island with lockable wheels and handles is ideal for moving about and staying in place.
This kitchen cart has five tier shelves and one drawer to keep your seasoning, snacks, wine, veggies, cooking and dining utensils, microwave coffee maker, and even small items like cooking spoons and dry towels. This storage shelf rack can also be used as a coffee cart, microwave cart, baker's rack, coffee bar table, spice rack, bathroom standing shelf, bookshelf, plant tool shelf, and office storage rack.
This cart is sturdy and easy to clean, with a bearing capacity of up to 110 lbs. and constructed of textured particleboard and a sturdy metal frame. The cart is simple to assemble, with thorough instructions included, and the Frunimall staff provides exceptional customer support to ensure your satisfaction.
Pros
Cons
My personal notes:
The Frunimall Kitchen Island On Wheels caught my eye because it has a lot of storage space and can be used for different things. The assembly process was not the easiest, as the instructions were a bit confusing, but I was able to figure it out with some patience.
Once assembled, the cart looked great and was very sturdy. However, I did experience some difficulty with the wheels, as they were not easy to tighten and did not make for a smooth roll. Despite this, I found the cart to be a great addition to my kitchen, with plenty of room to store all my cooking essentials within easy reach.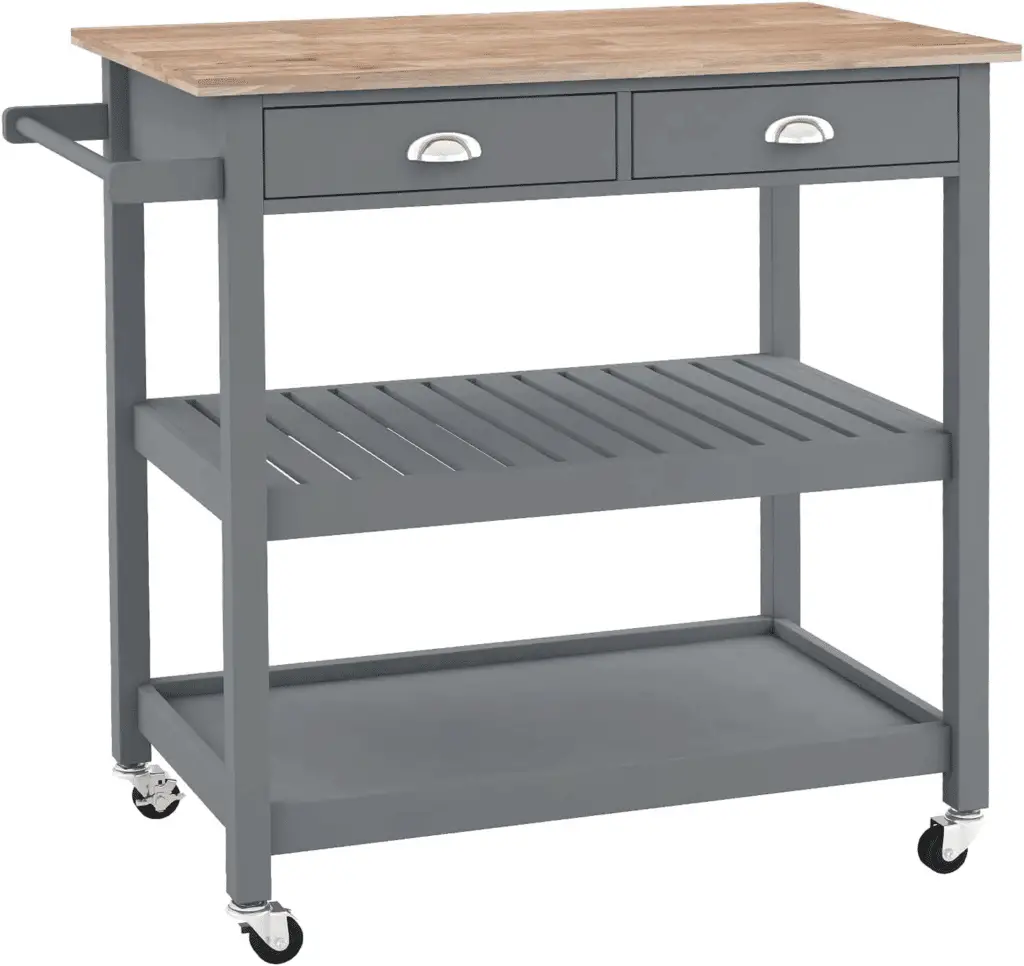 This beautiful and sturdy piece is perfect for anyone who wants to add more storage space to their kitchen without giving up style. It is strong and durable, thanks to its superb rubber wood surface and MDF materials.
The cabinet has two-tiered open shelves that provide plenty of storage and display space. The mobile kitchen island has four flexible casters that allow it to be moved around without damaging your floors. This mobile kitchen cart also has a towel rack that doubles as a handle, making it even more user-friendly.
Pros
Cons
My personal notes:
The ChooChoo Rolling Kitchen Island Cart is an excellent addition to any kitchen that need additional storage and workspace. I was able to put it together easily by following the directions, and once it was all put together, it was very strong.
The two-tier open shelves give adequate storage space for my kitchen items, and the towel rack is a fantastic feature that I use frequently. While there were several reports of assembly difficulty, I had no serious concerns.
The only issue I've encountered is with the towel bar, which was too short and regularly fell out. Fortunately, I was able to replace it with a longer dowel, which works perfectly.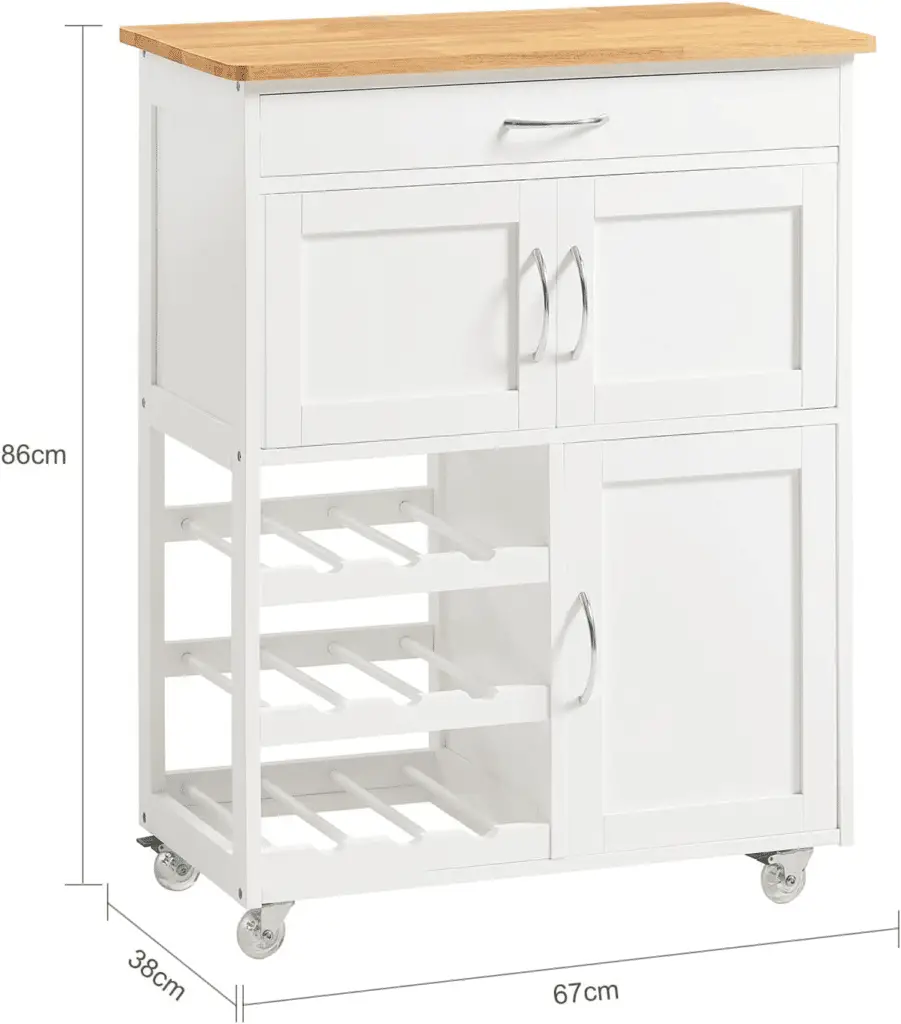 Kitchen space is always a valuable asset, and keeping everything in order may be difficult with so much equipment, utensils, and ingredients. The Haotian FKW45-WN kitchen trolley comes in handy here. The trolley has plenty of storage space for utensils and bottles, and with 1 drawer, 3 storage closets, and a 3-tier wine rack, you can store anything close at hand.
It is made of rubber wood and MDF with a white finish that is not only elegant but also strong enough to support a weight capacity of up to 50 kg. The trolley has four wheels, two of which are braked, making it easy to move and store in any part of the kitchen.
Pros
Cons
My personal notes:
This trolley has been a terrific addition to my kitchen, which has little counter space and a few kitchen cabinets. The trolley has enough storage space, and the wine rack is a nice extra. It is also strong enough to support a load capacity of up to 50 kg, and the wheels make it portable.
Still, I found the instructions for putting it together a bit confusing, and the cabinet doors were hard to line up. The stainless steel countertop is also easy to scratch, but I am happy with the quality as a whole.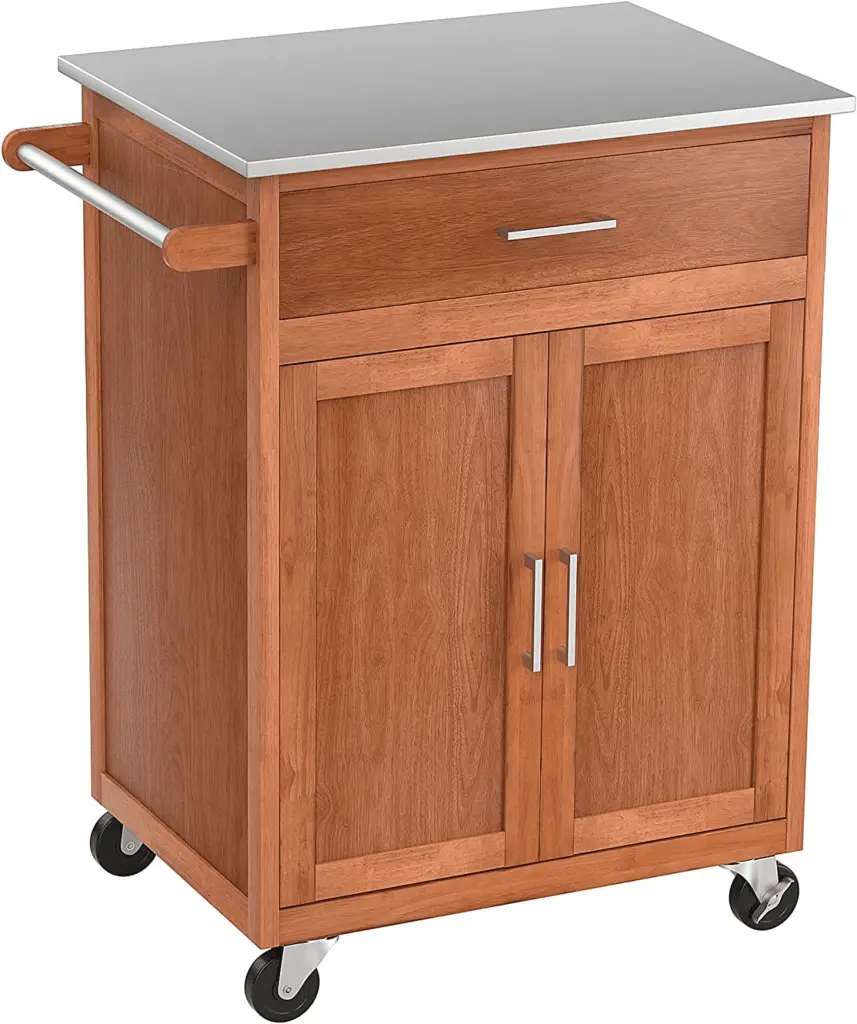 Giantex Kitchen Island Cart is a compact and smart design with a vast storage capacity that is intended to keep your kitchen clutter-free. The stainless steel tabletop is scratch-resistant and simple to clean, and its total dimensions of 28.5″L x 19.0″W x 35.5″H make it ideal for any kitchen.
It's simple to move the cart from one location to another thanks to four casters. The wheel locks make it simple to keep the cart steady when you want it to remain stationary. The cart requires some assembly, but the thorough manual instructions make it quite simple.
Pros
Cons
My personal notes
I think that the Giantex Kitchen Island Cart is a great addition to any kitchen. It has enough space for utensil and kitchenware storage, and the stainless steel tabletop is a wonderful addition.
The assembly was simple and uncomplicated, with all of the parts and screws labeled for ease of use. But some reviews complained about the directions, how weak the drawer was, and how the wheels didn't work right. Still, I think the pros are more important than the cons, and if you take care of this cart, it should last a long time. If you're searching for a functional and beautiful kitchen cart, this is a great option.
Editor's pick
As a proud owner of a 10×10 small kitchen, I know firsthand the struggle of wanting everything in a limited space. After all the searching and comparing, I have found the YITAHOME Kitchen Island Cart – a true gem that checks off all the boxes on my list.
Firstly, the size is just right for a small kitchen, fitting in seamlessly without taking up too much valuable real estate. The discreet storage compartments allow me to declutter and organize all my messy utensils, while the open shelves provide an opportunity to showcase my favorite kitchen items. And let's not forget about the durable counter top, which enables me to chop, slice, and dice with ease. Thanks to the lockable wheels, I can even move this cart around my kitchen as needed, making meal prep a breeze.
But perhaps the best part is the price – it's affordable and won't break the bank. And don't even get me started on the elegant design, complete with a neutral white color that matches any kitchen decor. It's truly a game-changer for me.
And the cherry on top? The handy towel rack. It may seem like a small detail, but it has made a huge difference in my daily routine.
Of course, everyone's personal preferences differ. But for me, the YITAHOME Kitchen Island Cart is a winner in every way. Don't be afraid to try it out for yourself – you never know, it might just be the perfect fit for your small kitchen too.
That's it! Now it's your turn!
Hence, here are my picks for the top ten best island carts for a tiny kitchen under $200. As you can see, there are many ways to save space, add storage, and make your kitchen more useful without spending a lot of money.
There is a cart to meet your needs and interests, whether you like a modern or traditional style, a wood or metal frame, or a stationary or rolling design. By looking at things like size, material, features, and reviews, you can make an informed choice and enjoy a useful and stylish addition to your kitchen and dining area.
Thank you for taking the time to read this, and happy shopping! Happy kitchen! Happy life!
F.A.Q