"An island for a small kitchen?" "You have to be kidding me!" That was my first thought when my friend suggested adding an island to my compact cooking space. But after doing some research and trying out a few different options, I became a believer.
A small kitchen island may be a game changer, adding more storage, seating, and workspace without taking up too much valuable room. In this article, I'll share some of my favorite small kitchen island ideas, so you may reap the benefits of this adaptable kitchen addition as well. Let's dive in!
Kitchen Island or Not?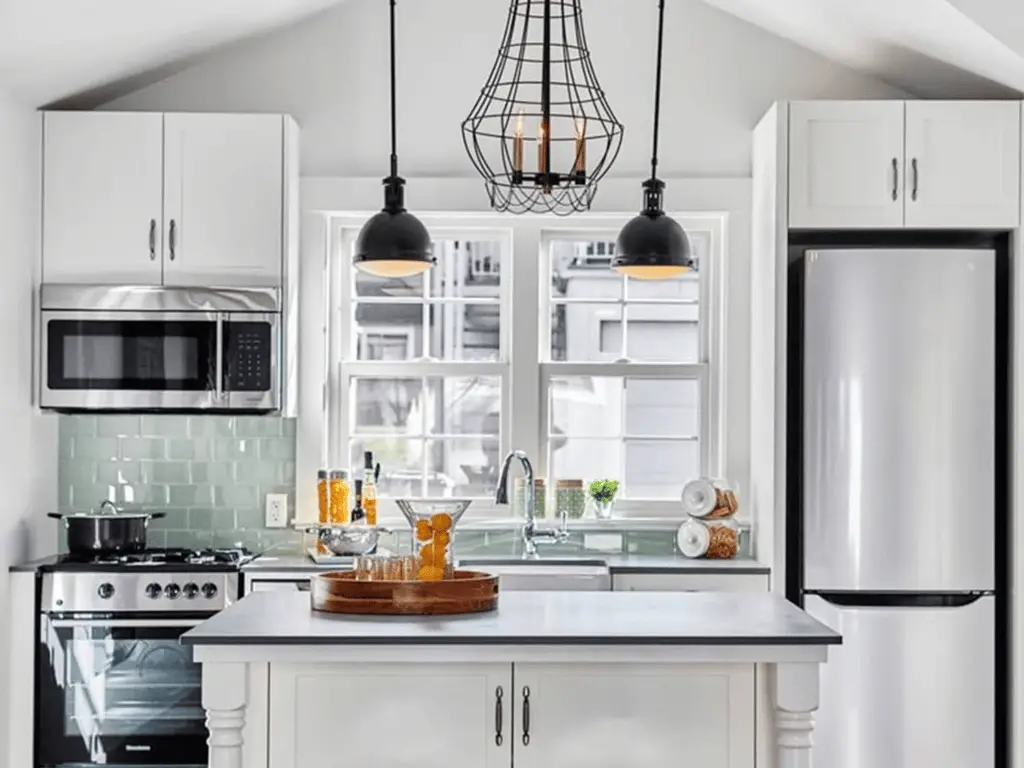 Ah, the age-old question of whether or not to have a kitchen island. For those with spacious kitchens, the answer is easy: go for it! But what about those with small kitchens? Is it even worth considering a kitchen island?
The truth is, a kitchen island can actually be a fantastic addition to a small kitchen. It just requires a bit of creativity and careful planning. With the right design and features, a small kitchen island can provide extra storage, workspace, and even seating.
But before you dive headfirst into island territory, there are a few things to consider. Let's start with some basics, as I did.
Is Your Small Kitchen Island-Ready? Minimum Space Required.
As a rule of thumb, a small kitchen should have at least 100 square feet of available floor space to accommodate a small kitchen island comfortably. Other things to think about are the size and layout of the kitchen, as well as the size and purpose of the island. It's important to make sure that the island doesn't mess up how the kitchen works as a whole.
The pros and cons of having an island in a small kitchen
I get it; adding an island to a small kitchen can seem like a big decision. On one hand, you have dreams of a functional and stylish space that would make Martha Stewart proud. On the other hand, you're worried about whether you can fit a kitchen island in your tiny kitchen without feeling like you're in a Tetris game.
So, let's take a closer look at the pros and cons of adding an island to your small kitchen and whether it's worth taking the leap:
Pros
Increased counter space for food prep and cooking
Additional storage space for kitchen tools, utensils, and appliances
Provides a central gathering spot for family and guests
Can serve as a secondary dining area or breakfast bar
Enhances the overall look and design of the kitchen
Can increase the resale value of your home
Cons
Takes up valuable floor space, which may make the kitchen feel cramped and small
Can impede the flow of traffic in the kitchen, especially if the island is too large
May require additional lighting and electrical outlets, which can be expensive to install
The cost of purchasing and installing an island can be significant
May require additional maintenance and cleaning
May not be suitable for smaller kitchens with limited space, as it can be difficult to navigate around the island.
15 Small Kitchen Island Ideas
So you've read the pros and cons and decided to stick around? Excellent choice, my friends! Now, let's move on to the exciting part: Small Kitchen Island Ideas! In the next parts of this article, we'll look at some creative and useful ways to fit a kitchen island into a small kitchen without giving up style or function.
1. Tuck in a kitchen island breakfast bar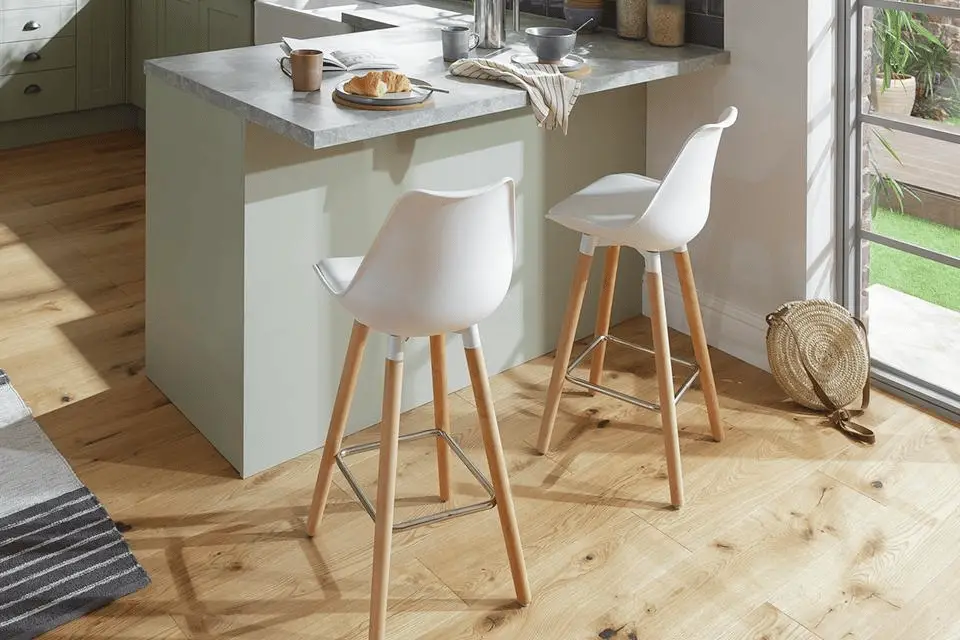 If you're looking for a way to add some functionality to your small kitchen island, then a breakfast bar might just be the solution you're looking for. With the simple addition of a countertop extension and some stools, you can transform your kitchen island into a cozy spot to enjoy your morning coffee or a quick breakfast on the go.
This clever idea not only saves space but also creates a casual and inviting atmosphere in your kitchen. It may be a tight squeeze, but it is doable.
2. Make it seamless with neutrals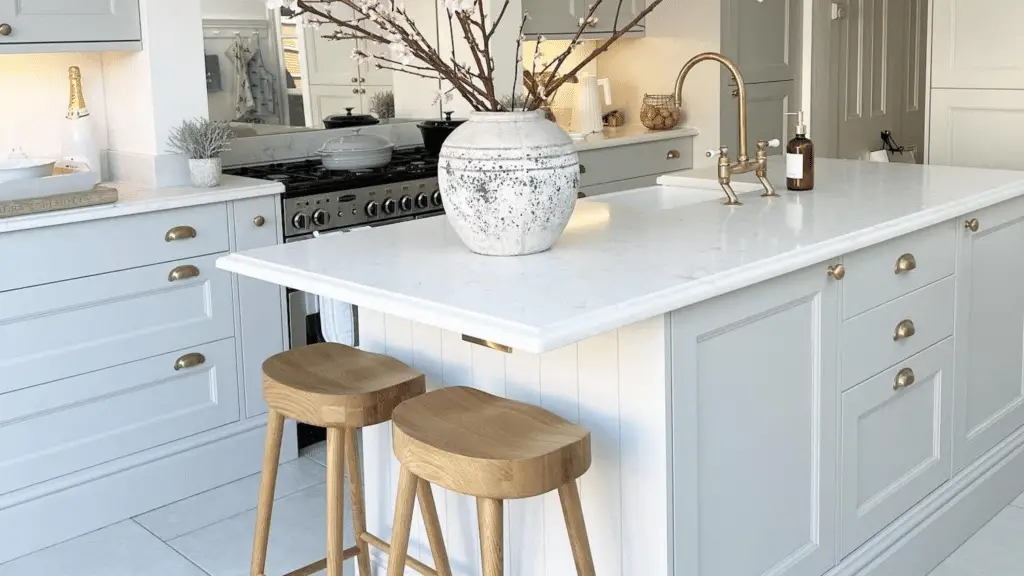 If you have a small kitchen with a kitchen island, you might want to use neutral colors to make it look sleek and put-together. To make the island fit in with the rest of the kitchen, choose a combination of white, beige, or gray.
For example, you could install white cabinets and countertops and then add a white or beige kitchen island with a countertop that matches. This will create a unified appearance and make the island appear to have always been there. Nevertheless, neutral hues can make a tiny kitchen appear brighter and more spacious.
Read more: Best wall colors for a small kitchen
3. Insert a secondhand table
Searching for a low-cost solution to building a kitchen island? Don't underestimate the value of a used table! You can transform a thrift shop discovery into a fashionable and useful island with some DIY skills and a little creativity.
A second-hand table may bring a unique touch to your kitchen while also functioning as a functional workspace, whether you sand it down and refinish it or add some new hardware. Just make sure to thoroughly measure the space and select a table that fits comfortably in your kitchen without restricting traffic flow.
4. Island with open storage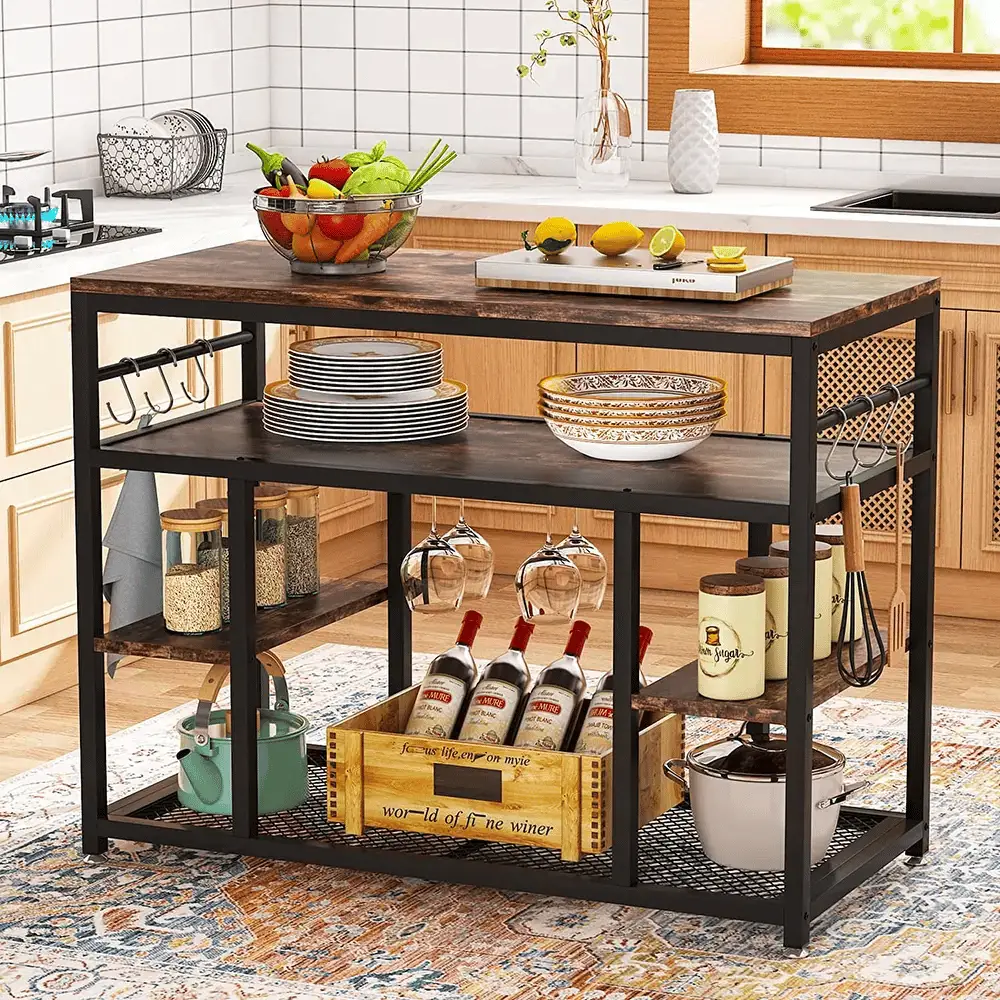 The island with open storage is ideal for compact kitchens that demand extra storage space. Its open shelves and drawers are a stylish and practical way to store and get to your kitchen items quickly.
The island's shape also makes it easy to move around, which makes it a great addition to any small kitchen. According to your needs and preferences, it can be placed against a wall or in the center of the room. The open storage design also creates the illusion of extra space, making it an excellent alternative for individuals who want to make their tiny kitchen appear and feel larger.
5. Metal Island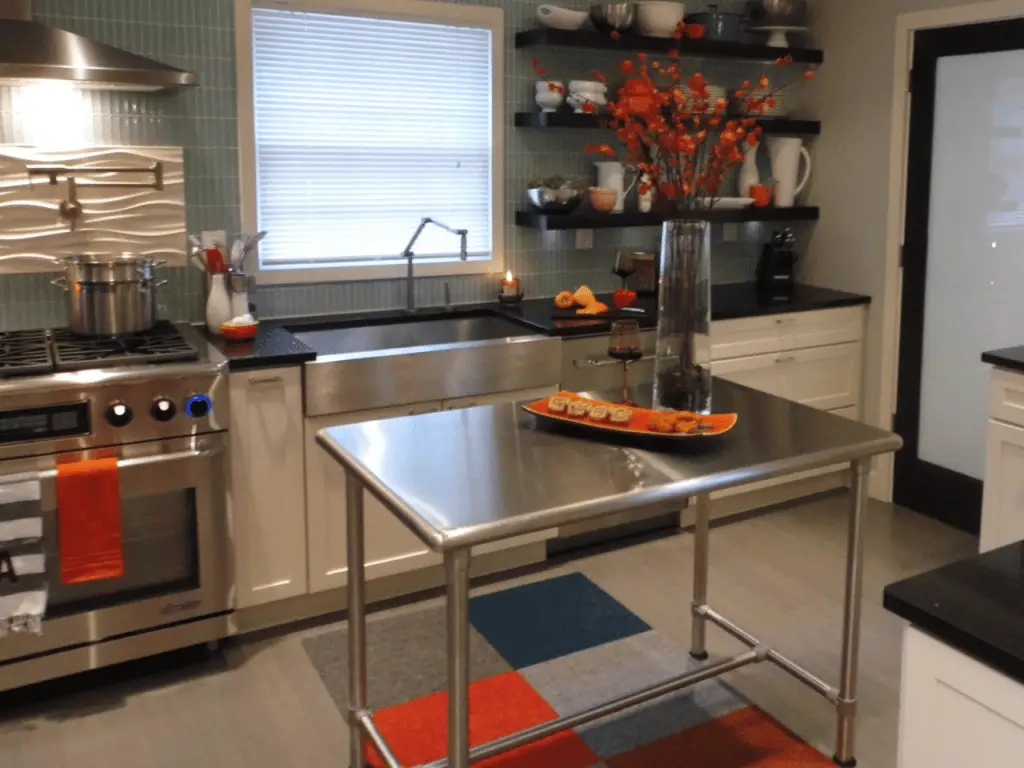 A metal island is an excellent choice for a tiny kitchen. Its clean, simple style changes the room right away into something more modern and open. Metal islands, as opposed to wooden islands, are more durable and require less upkeep.
Also, its shiny surface can help bounce light around the room, making it look like there is more space. The metal construction also makes it simple to wipe up spills or messes, which is important in a tiny kitchen where every inch of counter space counts. Whether you choose a small metal island with a built-in sink or simply utilize it as an extra prep area, it will improve the functionality and style of your small kitchen.
6. Small portable kitchen island cart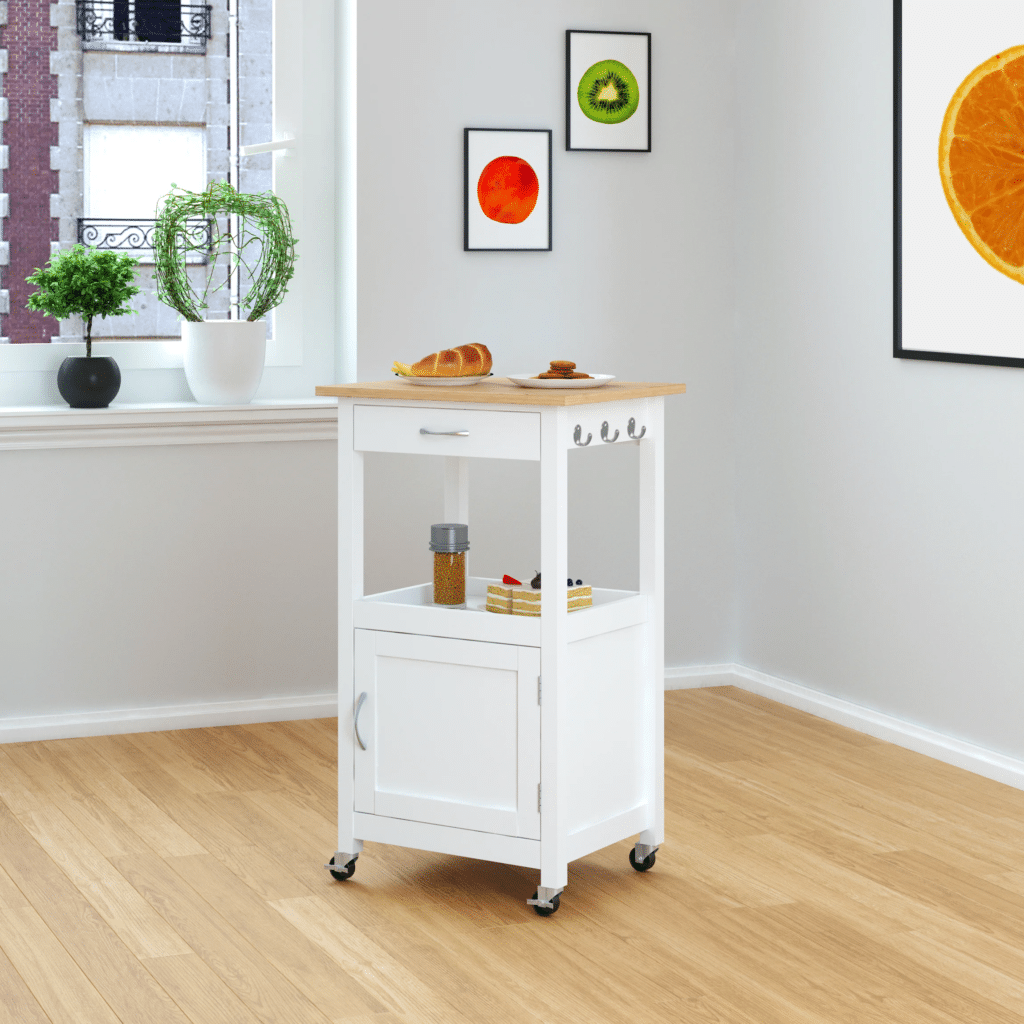 This small island cart is easy to move around, so you can change the way your kitchen is set up as needed. Do you require additional counter space for meal preparation or entertaining guests? Just wheel the island across. Want to make your kitchen feel more spacious? Simply move the island to the side.
Also, many portable kitchen islands come with extra storage space, which makes them a great choice for small kitchens with few cabinets. They are also inexpensive and useful, with a nice island cart costing less than $200. A fantastic alternative for your small kitchen!
7. Complement your small kitchen island with a rug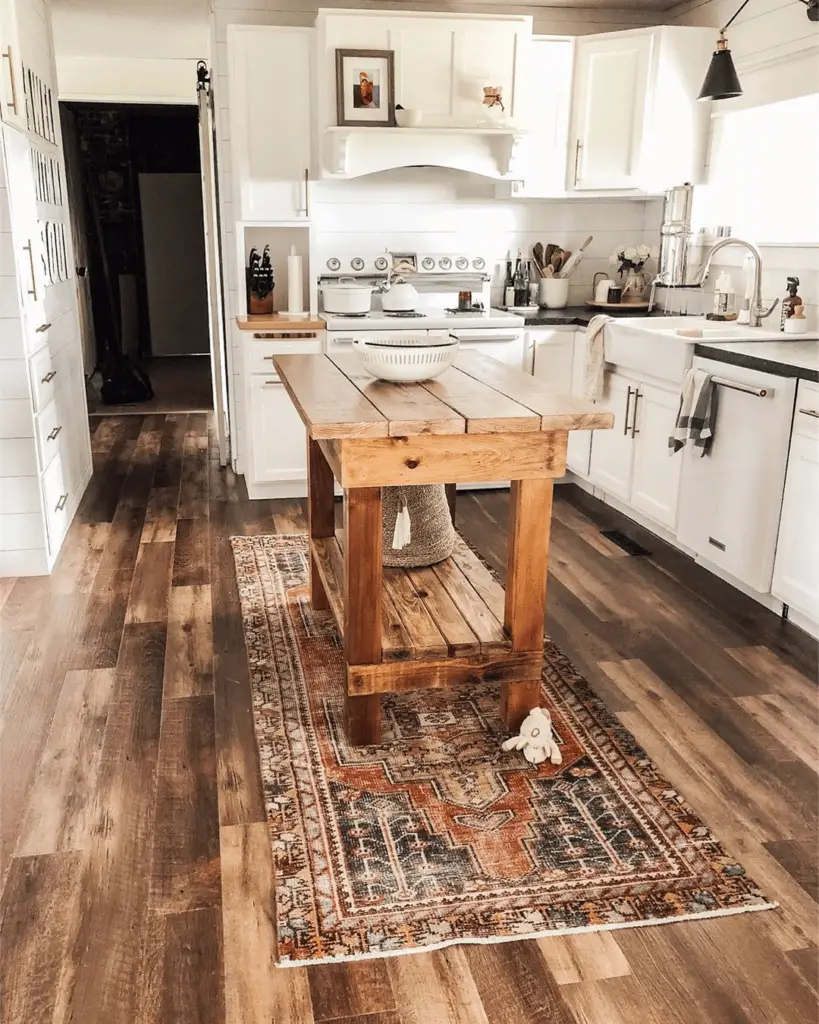 A rug may not be the first thing that springs to mind when picturing a small kitchen island, but it may be an excellent addition. You may create a sense of separation and contrast in your kitchen by placing a rug beneath your island.
This is particularly handy in small kitchens, where everything tends to blur together. It's also a terrific way to inject some personality and color into your room. Choose a rug that is easy to maintain and will not interfere with the functionality of your island.
8. Use it as a table in studio apartments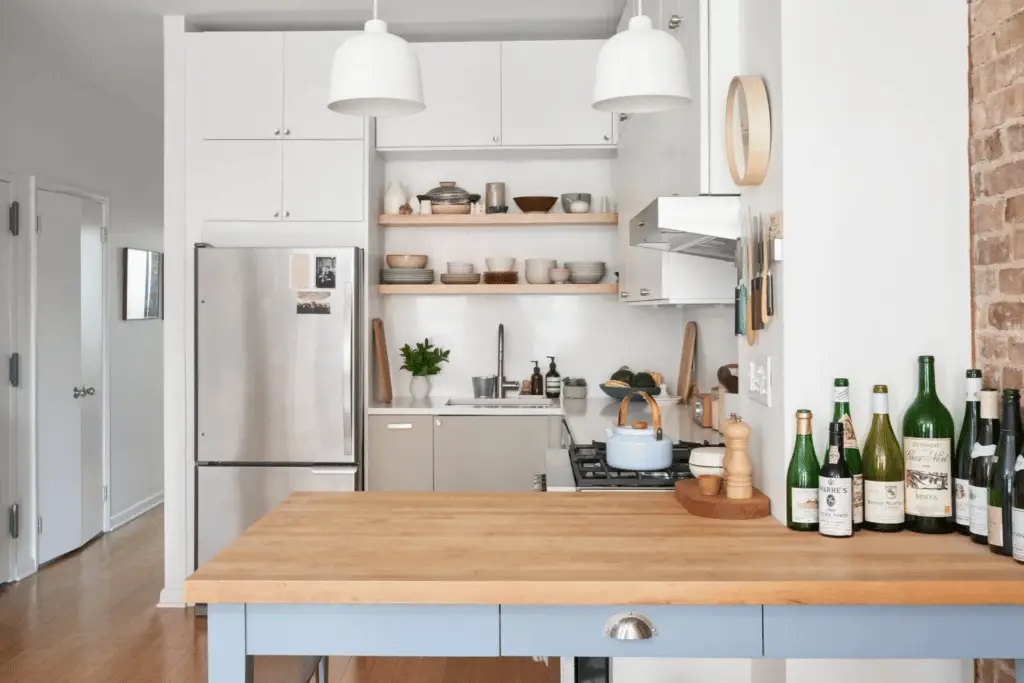 In a studio apartment, using a small kitchen island as a table is not only functional but also elegant. With a small kitchen, every piece of furniture must serve two functions, and a small kitchen island may do just that. It can be used as a workspace for cooking or preparing food, as well as a dining table for dining.
It saves important space that would have been taken up by a separate dining table by being used as a table. It also gives the studio apartment a touch of class by creating a dining space.
9. Make it long and narrow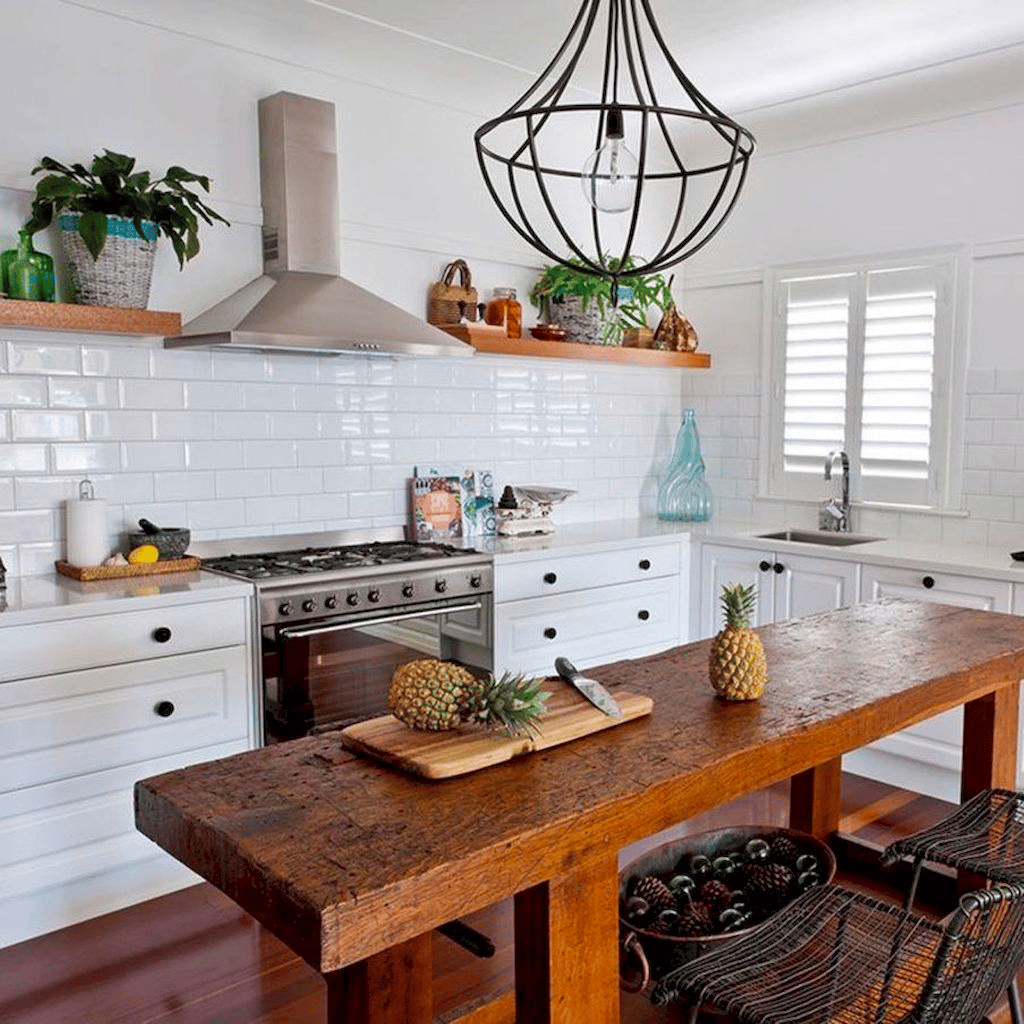 A small kitchen does not have to mean sacrificing utility. A long and thin kitchen island, in fact, can be the ideal option for a tiny kitchen space.
By making the island longer, you can make the most of the counter space and make more room for preparing and cooking food. This also allows you to include more storage and seating alternatives. Also, a long and thin kitchen island can visually lengthen the area and provide a more open and airy sense.
10. Include some relevant appliances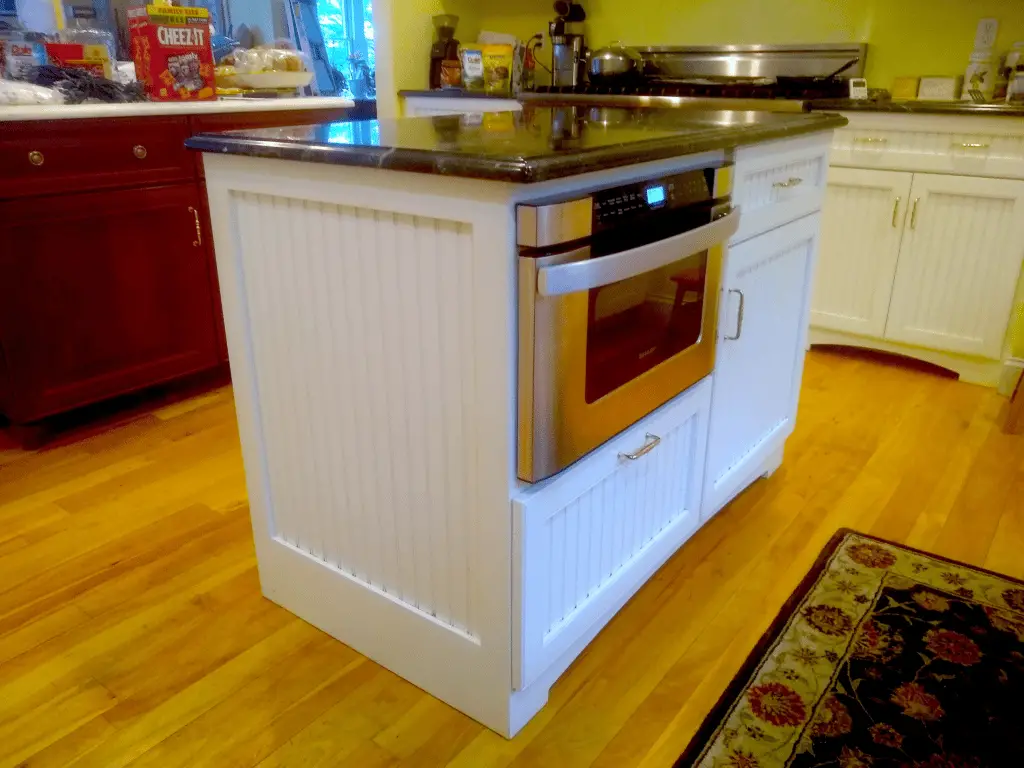 A tiny kitchen island with necessary appliances can make a world of difference. When you don't have a lot of room, having appliances built into your island can save you valuable counter and storage space and make your kitchen work better.
A small kitchen island can house a variety of appliances, from a compact refrigerator to a built-in dishwasher, freeing up space in other areas of your kitchen. Furthermore, having everything you need in one place can make meal prep and cooking easier, even in the smallest of kitchens.
11. Add some seating strategically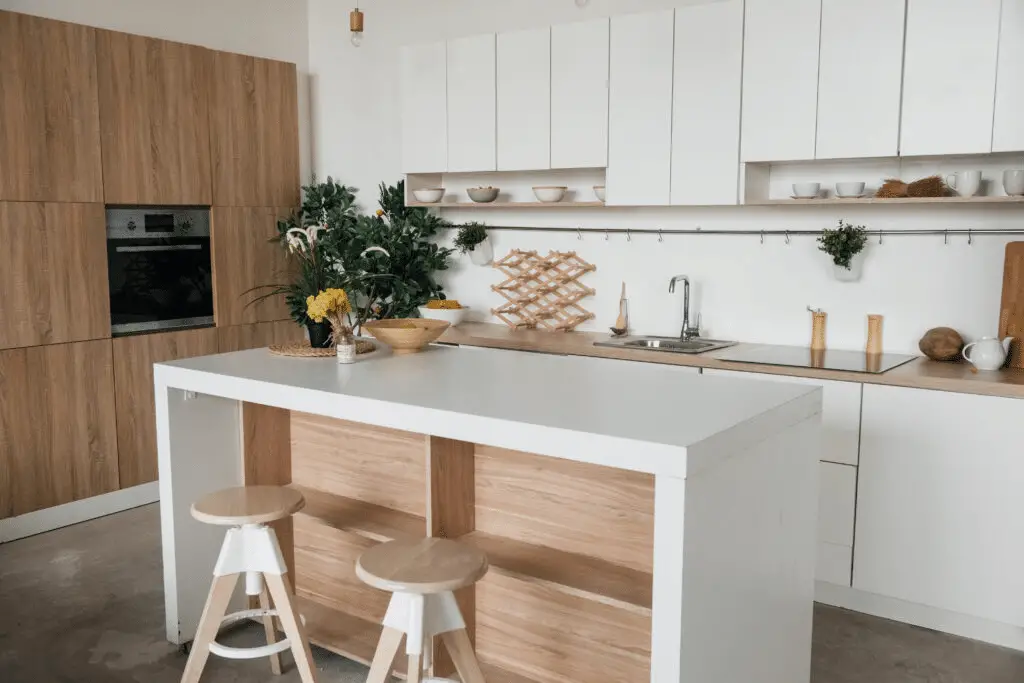 If you have a small kitchen but still want to enjoy meals with family and friends, strategically placing chairs can be a game changer. Consider adding seats to your small kitchen island or countertop instead of taking up valuable floor space with a full-sized table and chairs.
Adding seating to your small kitchen can make it feel more comfortable and inviting while making the most of the space you have. This is true whether you add a couple of stools under an overhang or a built-in bench along one side. So, why not get creative with your seating arrangement and transform your little kitchen into the ideal meeting place?
Read more: Best Space-Saving Table and Chairs Ideas for a Small Kitchen
12. Enjoy a multipurpose small kitchen island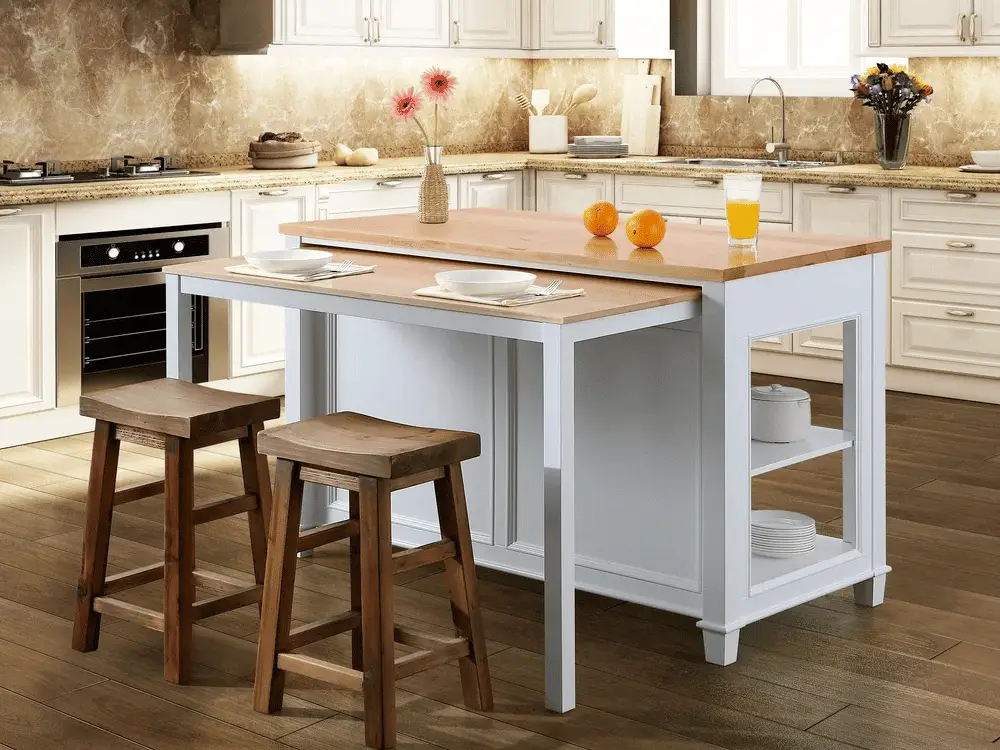 A compact kitchen island with multiple functions is like having a Swiss Army knife in your kitchen. It can be used as a place to prepare food, to store things, as a breakfast bar, or even as a temporary place to eat.
A versatile island can be a game changer in a tiny kitchen. It can help you make the most of your limited counter and storage space while also adding functionality and adaptability to your kitchen. So why settle for a simple island when you can have one that does everything?
13. Accessorize with bold accent colors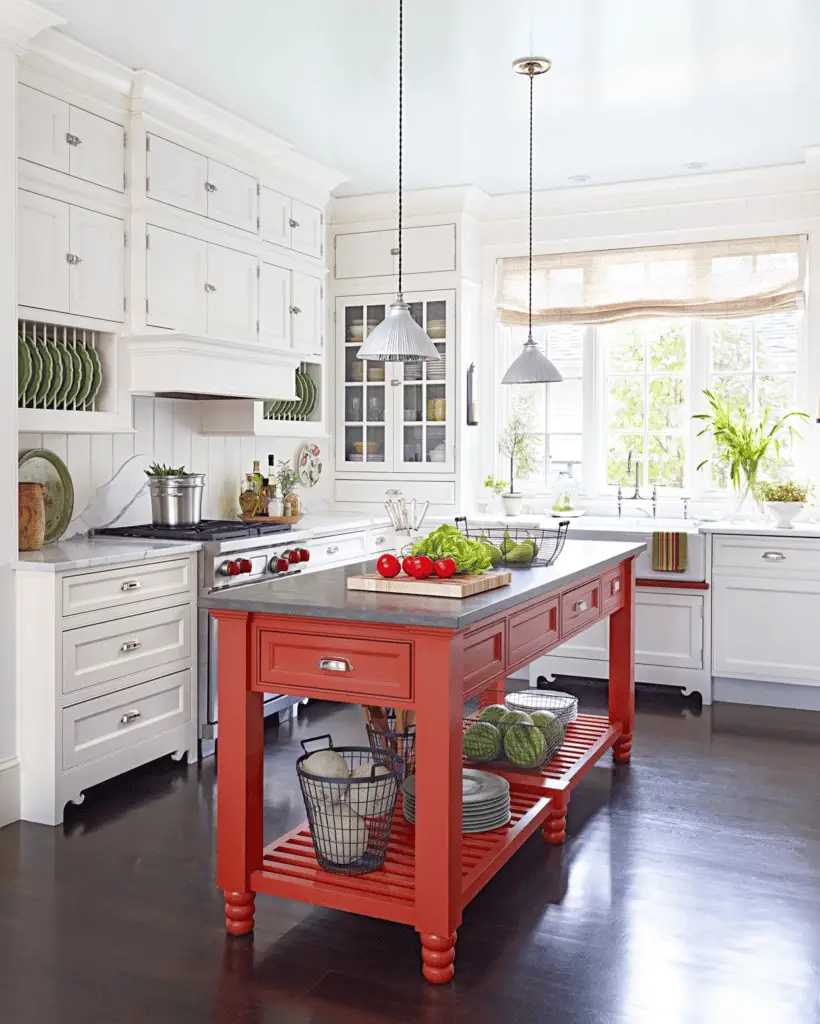 Looking to spice up your small kitchen space? Accessorizing your small kitchen island with bold accent colors can do just the trick! Not only do bold colors add a pop of excitement to your kitchen, but they also draw the eye away from the limited space and towards the island.
Plus, with the island acting as a focal point, you can play with different colors and textures without overwhelming the entire room.
14. Create some contrast with the rest of your furniture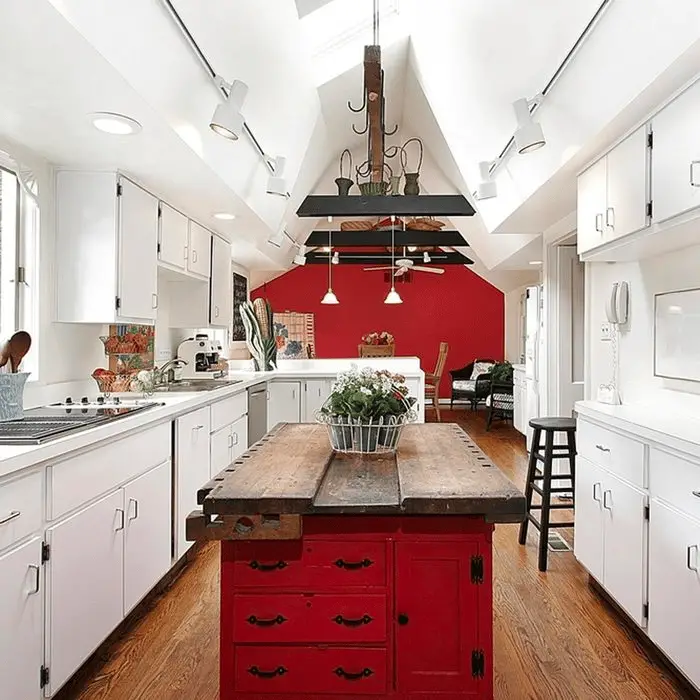 A small kitchen island can be a standout piece in a compact kitchen. To make it even more eye-catching, consider creating some contrast with the rest of your furniture. A bold color or unique texture can make the island pop and add a touch of personality to your space. Plus, it can help draw attention to the island and make it feel like a deliberate design choice rather than a functional necessity.
15. Opt for a freestanding model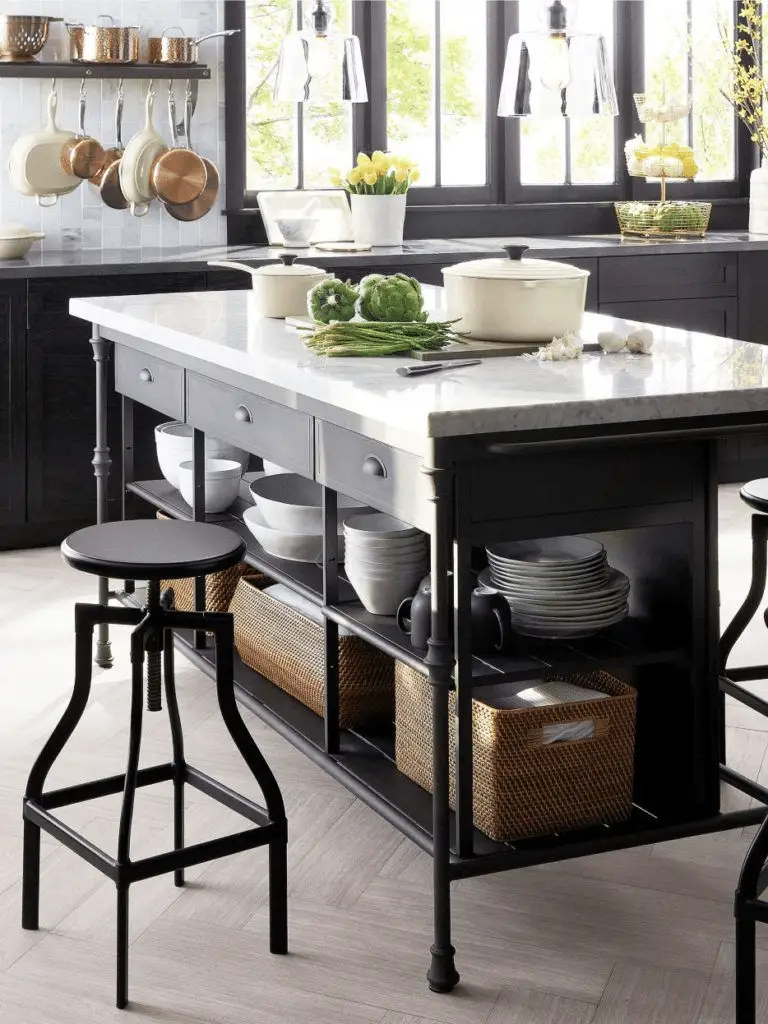 A freestanding island is ideal for a small kitchen that requires more storage space as well as a touch of elegance. This versatile piece of furniture can be simply moved around, making it an excellent choice for renters or anyone who wants to change up their design on a regular basis. Also, because of its open design, it will not make your kitchen feel crowded or cluttered.
Conclusion
Finally, a small kitchen island can be an excellent addition to any small kitchen space. There is sure to be an island that fits your needs and style. You can choose from furniture-style islands, portable islands, and islands that stand on their own. A small kitchen island can serve as not just extra workspace and storage, but also as a multi-functional piece of furniture, such as a dining table or additional seating area.
You can make the most of your small kitchen island and turn your small kitchen into a functional and fashionable space by following some of the tips I've provided, such as selecting the right materials, decorating with vibrant colors, and optimizing space with the use of the ceiling.
Happy kitchen, happy life!