The space under the stairs is sometimes an inconvenient and underutilized area in a home. But what if I told you that this room might be transformed into a useful and elegant kitchen rather than just storage or a cozy corner?
In this post, we'll look at the advantages of using this unusual area for a kitchen, as well as advice and ideas for building a place that's both functional and beautiful.
But first, why a kitchen under the stairs?
Utilize every square inch of space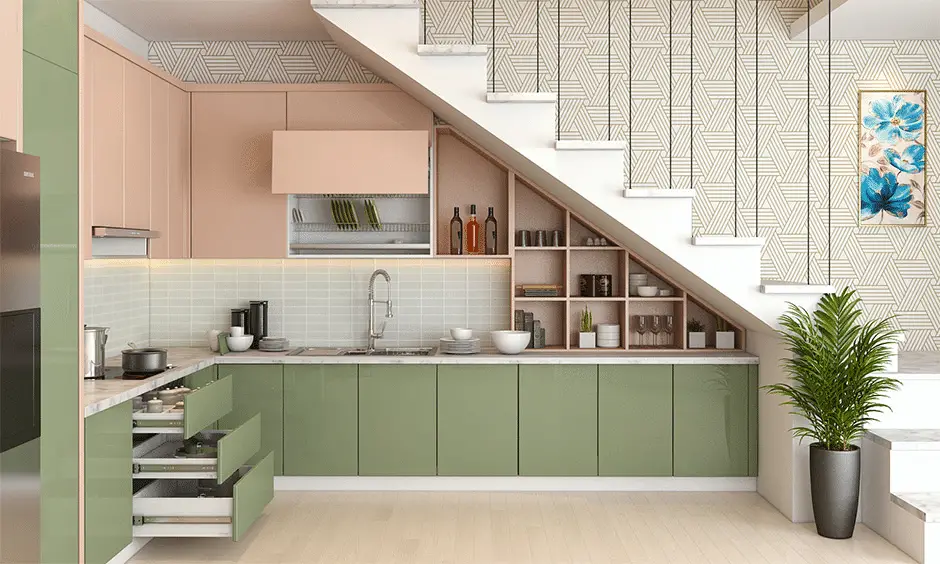 Most kitchens have more stuff than we know what to do with, and keeping them organized may be troublesome. Some items we have no idea exist, while others are so cluttered that they take up too much space in the cabinets, but we can't just throw them out.
This is where the under-stairs storage is useful. Because the space under stairs always has some oddly shaped corner that doesn't match anything, but these jumbled stuff. This makes them an ideal couple.
You can use this often-unused space to store more kitchen items if you have cabinets built to fit the angle of the steps and design them to fit your needs.
Creative touch to your living space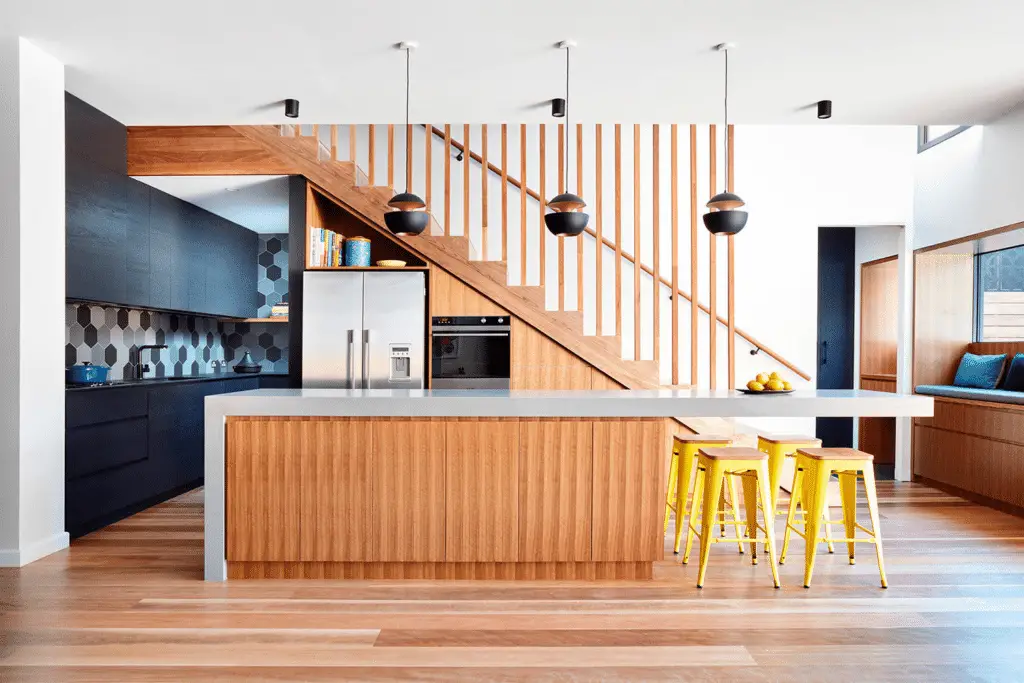 This method not only makes the most of the space you have but also adds a unique touch to your home. Not to mention the open space that stairs give, which is ideal for creating a seamless flow between your kitchen and living spaces.
So, why not turn that awkward, unused space under your stairs into a stylish and useful kitchen?
Agree? Great! So let's get started on what to think about when designing an under-stairs kitchen.
There will be a lot of Customizing to Maximizing
One of the key duties of a kitchen under stairs is to maximize space; this necessitates some effort to make every square inch count.
You can use every inch of space by having cabinets, shelves, pull-out drawers, corner units, and storage in the ceiling built just for you. With the right design and layout, even the smallest space under the stairs can be turned into a fully functional kitchen.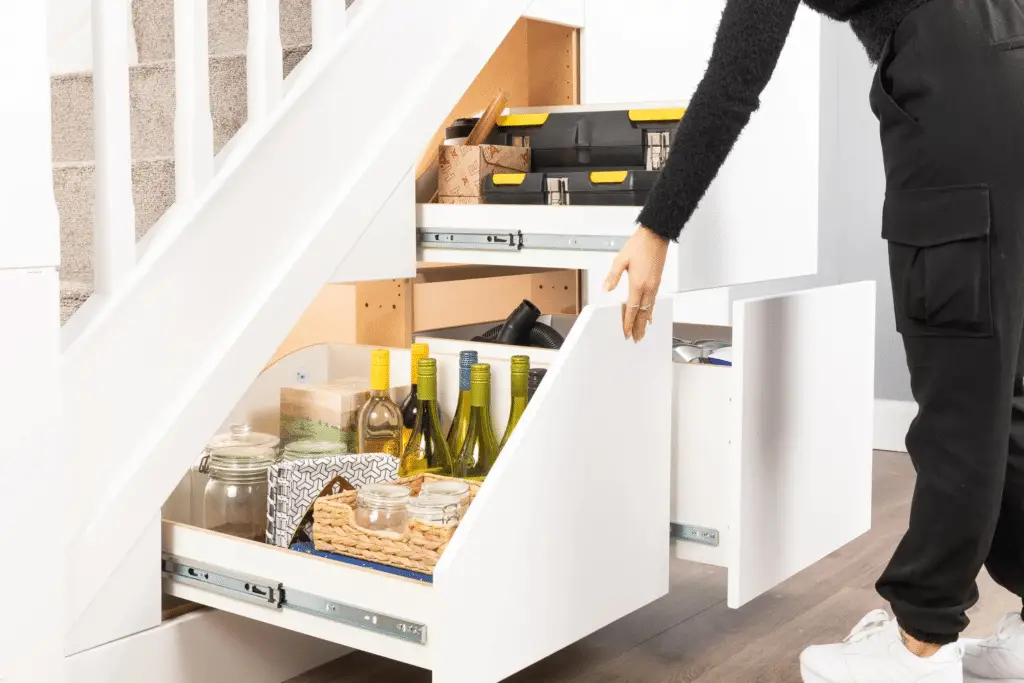 So, speak to your interior designer to make sure no inch is left behind.
Also, adding light and bright colors, open shelves, mirrors, small appliances, and furniture and appliances that can do more than one thing can give the impression of more space and make the kitchen more useful.
Appropriate lighting, including both natural and task lighting, may also make a room feel larger and more attractive.
Styles and Decor ideas
Designing a style for a kitchen under stairs can be a difficult but also enjoyable task. There are various design styles that can be used perfectly:
Minimalist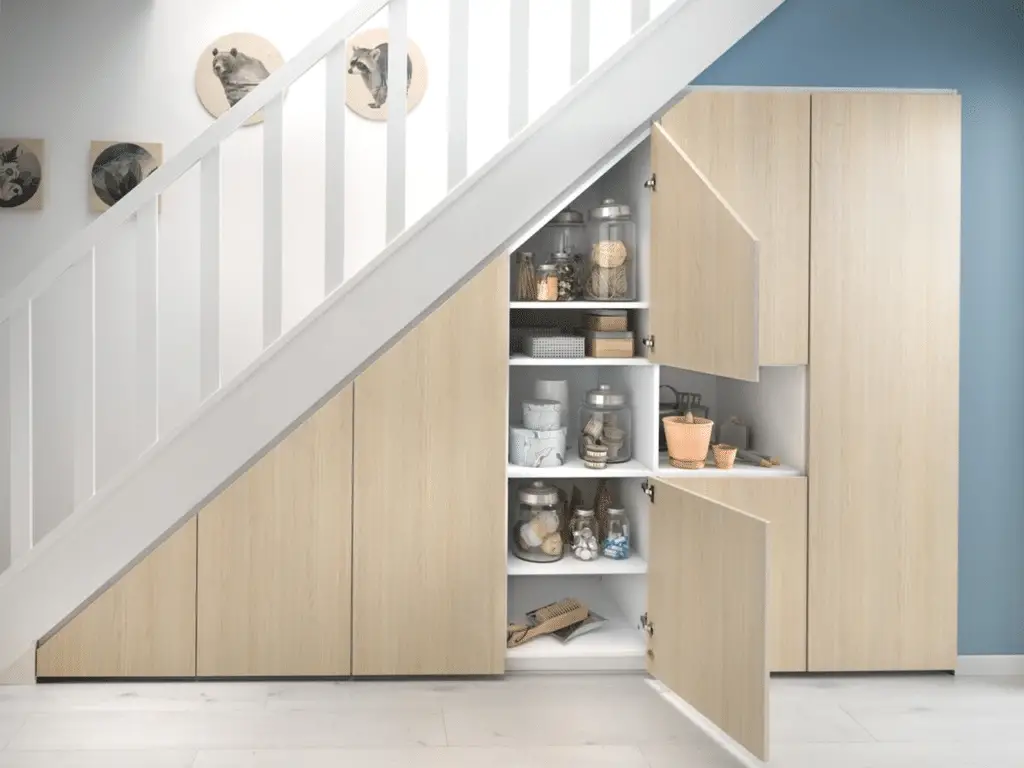 Minimalism is a popular way to design for people who like clean lines, simplicity, and functionality. The understairs area is ideal for this style, especially if it is straight and rectangular in shape.
Custom-built cabinets and storage can have a minimalist look by having thin doors without handles and smooth surfaces.
Cabinets and countertops in white or neutral colors can help create a clean, uncluttered look, and open shelves can be used to show off a few carefully chosen items, like glassware or cookbooks.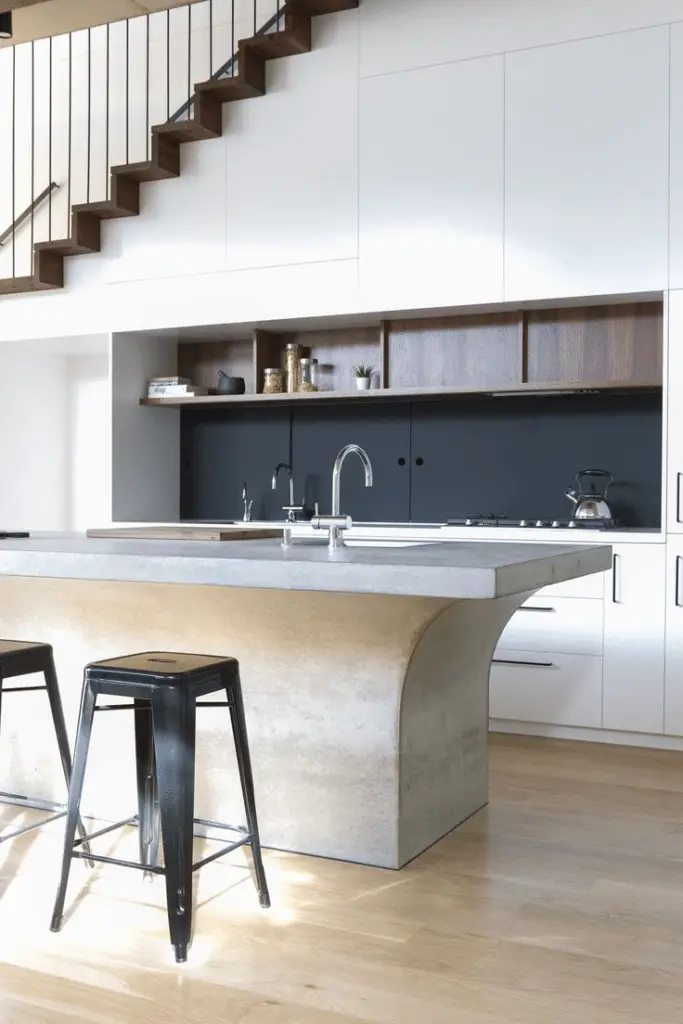 A minimalist kitchen under the stairs is not only stylish, but also useful. It lets you make the most of every square foot of space while staying clean and uncluttered.
Scandinavian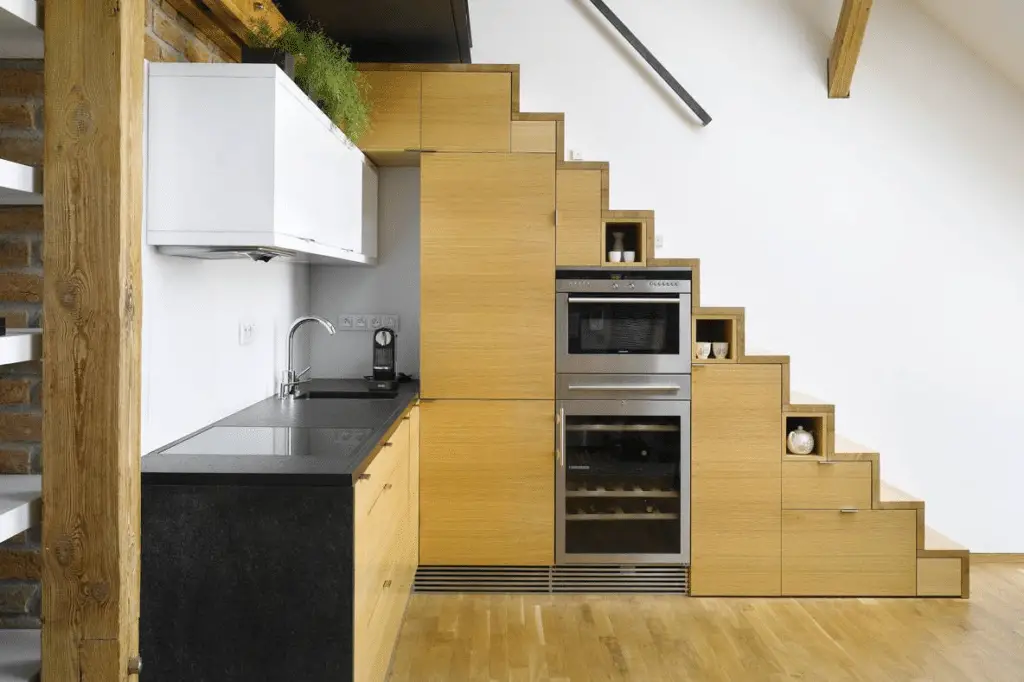 This style emphasizes functionality, simplicity, and minimalism with a hint of warmth.
Its light color, natural materials, and smart storage options make it perfect for small, narrow spaces like under the stairs.
Consider light-colored cabinets, open shelving, elegant hardware, and counters made of natural wood or stone.
To make your home feel more inviting and dynamic, add some splashes of color with vivid linens or strong artwork.
Scandinavian design may help you build a beautiful and useful kitchen that is both fashionable and utilitarian.
Industrial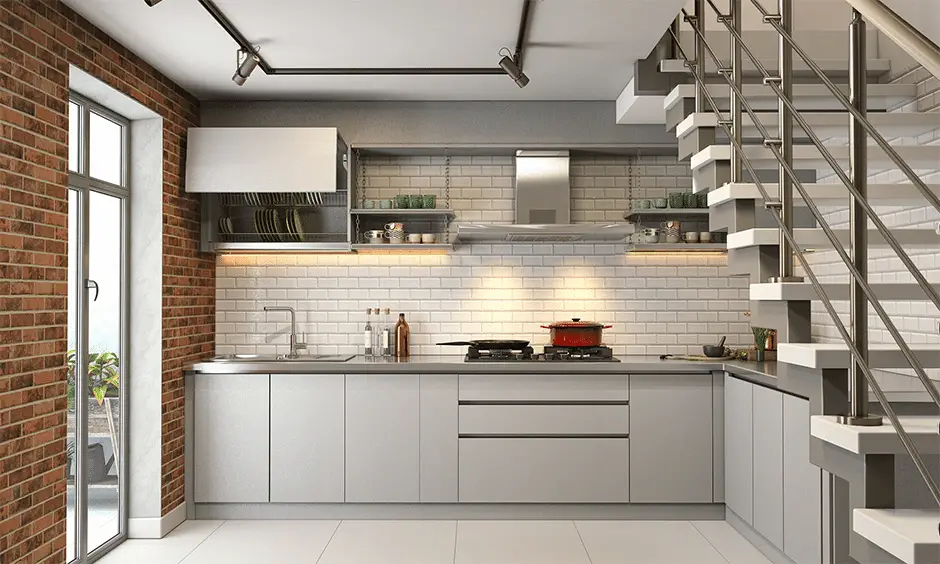 Whether you have a loft or an open-plan living space, the understairs area is ideal for creating an industrial-style kitchen.
This style's raw materials, exposed pipes, and ducts can be used into the design to create an edgy and modern effect.
This style is most suited for vast and open spaces, but it can also function well in narrow and tall understairs areas with vertical storage options.
Consider stainless-steel appliances, concrete countertops, reclaimed wood cabinets, and metal shelving.
The goal is to balance out the roughness of the industrial features with soft lighting, plants, and bright accents.
Colorful accents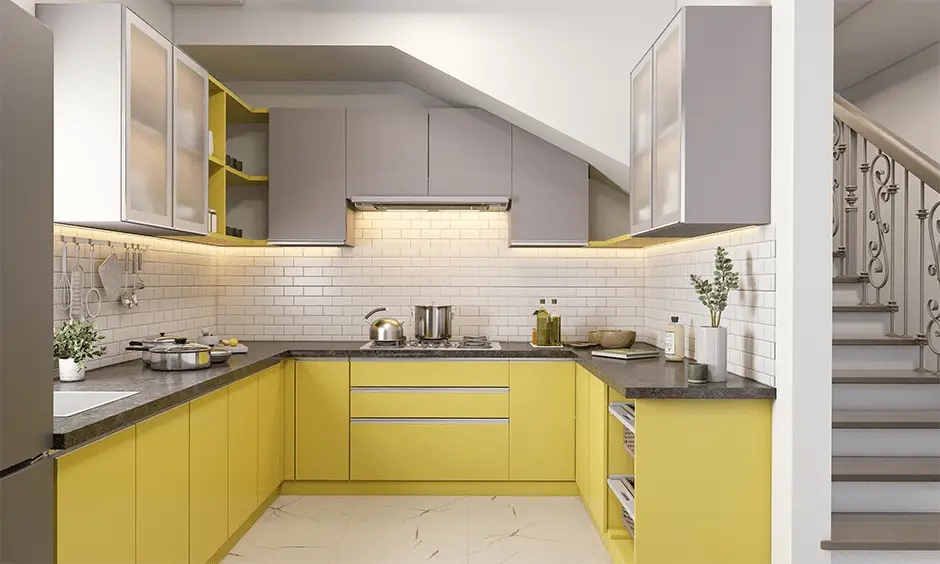 If you're a fan of color, why not make a statement with your understairs kitchen?
This style is ideal for individuals who wish to inject some uniqueness into their home.
You can experiment with bright and vivid colors on your cabinets, walls, and even appliances.
This is a great chance to show your creativity and try out colors you might not have thought of before.
However, keep in mind that this style is better suited for larger and more open areas under the stairs, since too much color in a tiny location can be overwhelming. But don't let it stop you, if you learn a bit about the best wall colors for a small kitchen, things will get simpler.
So, if you have a lot of space under the stairs and want to liven up your kitchen, go for colorful accents.
Natural materials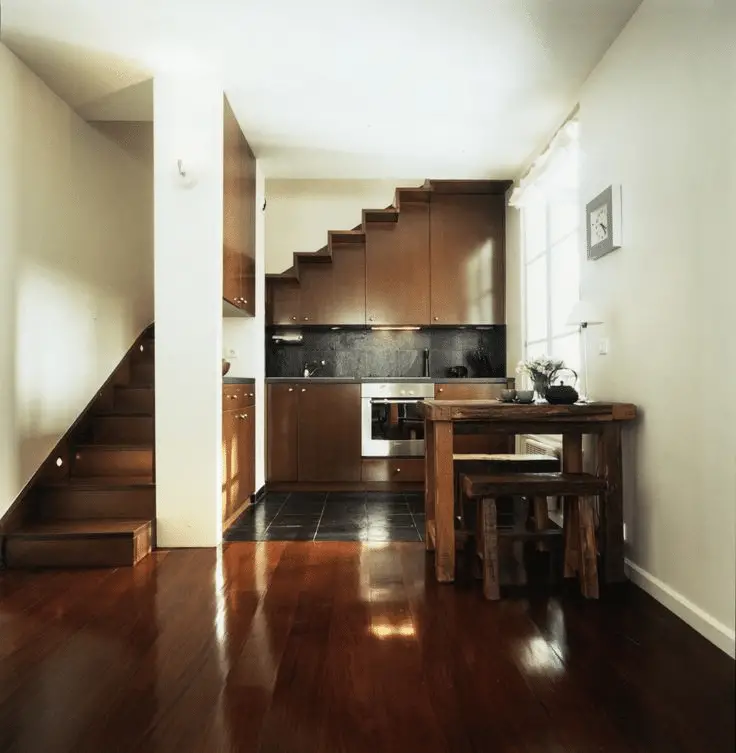 Why not use natural materials for your under stairs kitchen design if you want to bring the outside in?
This design is all about using natural materials like wood, stone, and metal to create a warm and inviting environment.
Natural materials are fantastic since they can function in practically any type of under stairs location, whether it's a small nook or a larger room.
A wooden countertop, stone backsplash, or metal accents can give your kitchen an earthy, rustic feel.
Furthermore, introducing natural light and flora can make the place feel even more natural.
You may build a pleasant and welcoming kitchen with a natural materials theme that will motivate you to cook up some tasty dishes.
Before you start to build it
I know you're itching to get started on your under-stairs kitchen. But wait a minute! As with any other home improvement project, building a kitchen under the stairs needs to take into account the following:
Be aware of the house's structure: First, you'll need to talk to a contractor or structural engineer to make sure the space can handle the weight and pressure of a kitchen, especially if it involves plumbing and gas lines.
Ventilation: Ventilation is a critical consideration since a kitchen generates a lot of heat and steam, which can cause moisture problems and potentially lead to mold and mildew growth. Make sure you have a well-built system to handle this.
Water and electricity: You should think about where to put electrical outlets, light fixtures, and plumbing connections so that they are easy to reach and work.
Expense: Be aware that building an under stairs kitchen will likely require custom cabinetry and furniture, which can be more expensive than standard options.
Final thoughts
To sum up, the space under the stairs is often ignored and not used to its full potential. However, with some creative thinking and careful design, this space can be turned into a useful and attractive kitchen that makes the most of every inch.
You may create a beautiful and functional addition to your house by using custom-built cabinets and storage, combining style and decor ideas that suit your personal taste, and being mindful of the various problems that come with installing an under stairs kitchen.
The under stairs kitchen is a versatile and space-saving option that adds value to your property, whether you want a minimalist, Scandinavian, industrial, or colorful style. Therefore, why not make the most of this often-overlooked room by transforming it into the kitchen of your dreams?