If you've ever done a remodel, you know that countertop options are endless. From solid surfacing to marble, granite, wood, soapstone, quartz, quartzite, concrete, and laminates, there is a surface for every budget and style.
However, with so many choices available, it can be tough to know what material is best for you and your family. In this post, we'll break down the differences between the most popular countertop options and help you find the right fit for your space and your lifestyle.
Quick Summary
Here's a summary table of the countertop options discussed in the below content:
| | | | | |
| --- | --- | --- | --- | --- |
| Countertop Option | Material | Durability | Maintenance | Price Range (per sq. ft.) |
| Solid Surfacing | Acrylic | Durable | Light buffing | $50 – $75 |
| Marble | Natural stone | Porous (can stain/etch) | Resealed every 1-2 years | $120 |
| Granite | Natural stone | Extremely durable | No sealing required | $40+ |
| Wood | Various types | Refinishable | Proper sealing required | $30 – $100 |
| Soapstone | Natural stone | Dense/non-porous | Mineral oil recommended | $50+ |
| Quartz | Man-made surface | Stain/scratch/heat/impact resistant | No sealing required | $70+ |
| Quartzite | Natural stone | Needs to be sealed/resealed | Resealed every year | Expensive |
| Concrete | Versatile material | Stain/heat/water resistant | Sealing required | $100+ |
| Laminate | Synthetic material | Fairly durable | Not heat resistant | $5+ |
This table can help you compare the different options based on their material, durability, maintenance requirements, and price range, making it easier to choose the best countertop option for your space and lifestyle.
Solid Surfacing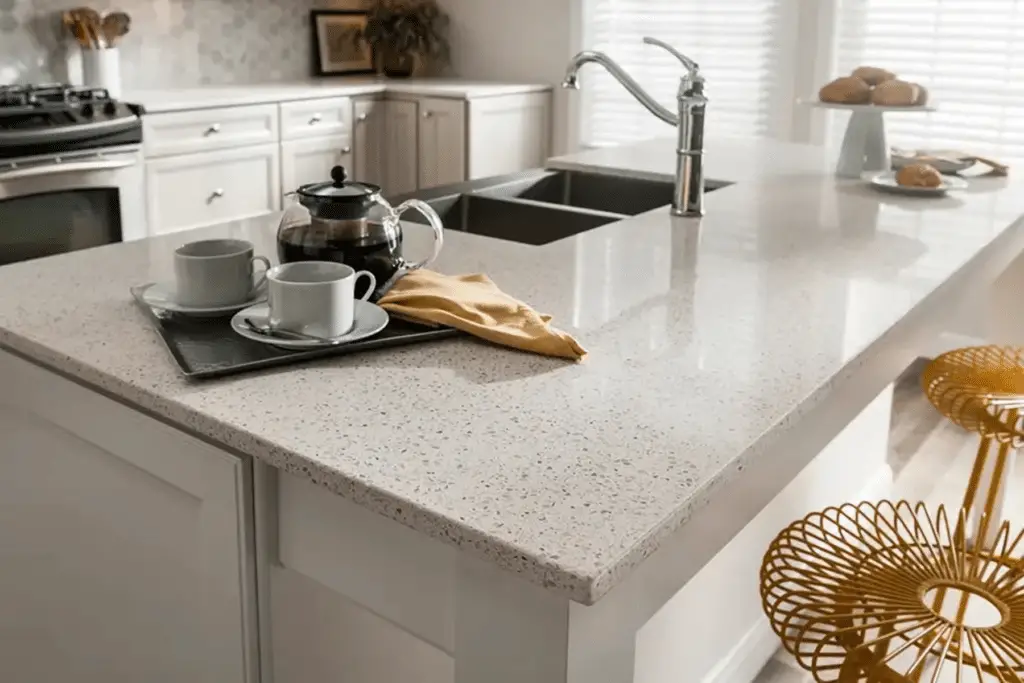 First up is solid surfacing. Made of durable acrylic, these countertops are designed to withstand years of wear and tear and can include an integrated sink with seamless installation. They're resistant to stains, moisture, sunlight, and heat, and can be repaired with light buffing. The cost ranges from about $50 to $75 per square foot, making them a super affordable option.
Marble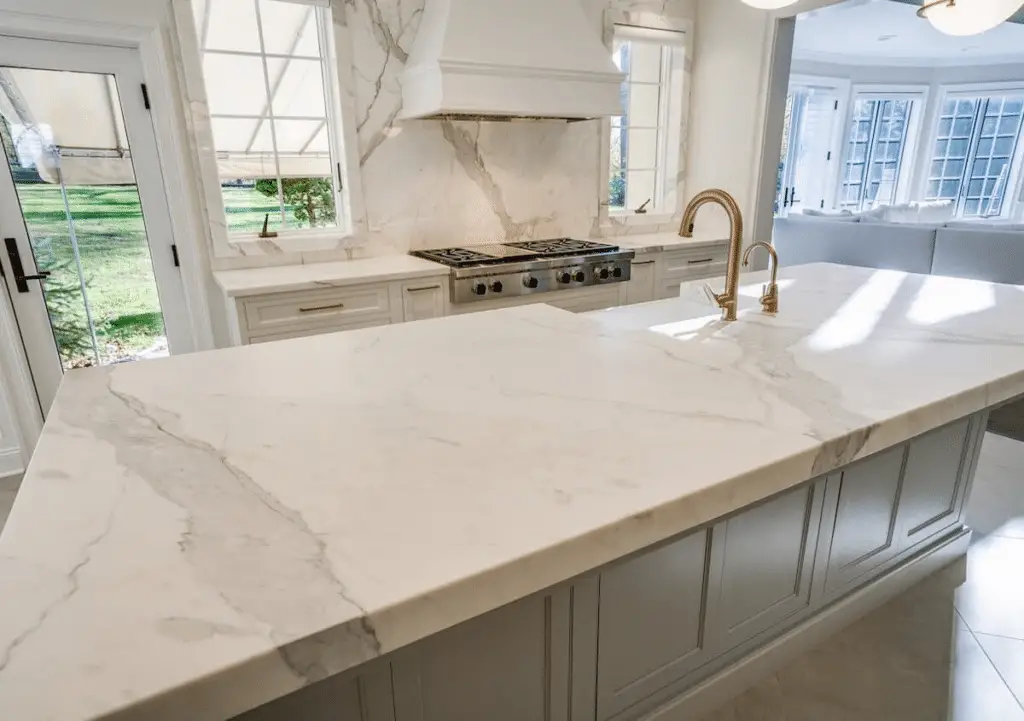 Marble is known for its natural beauty and it's a great surface to create a timeless look. The downside is that because it's a porous surface, it can stain and etch, and it needs to be resealed every one to two years. So, it's ideal for a homeowner willing to make a commitment to maintenance.
Marble is heat resistant but not as effective as some of your other options, meaning that thermal shock discoloration and burns are all possible. The price point on marble is high, expect to pay $120 per square foot.
Granite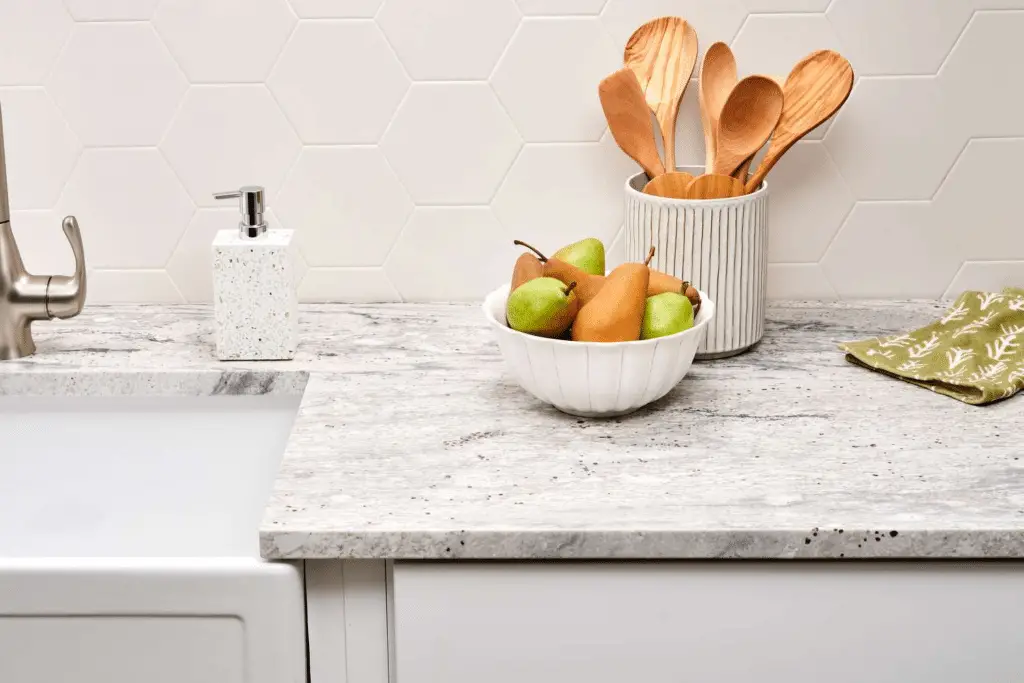 Let's talk granite. This surface comes in a wide range of colors and variations and can be purchased in a polished or matte finish. Granite's natural beauty and extreme durability make it an ideal material for countertops.
It resists scratches and stains and requires no sealing since it's non-porous. It also protects against mold and mildew. As for price, granite begins around $40 per square foot, making it another affordable option.
Wood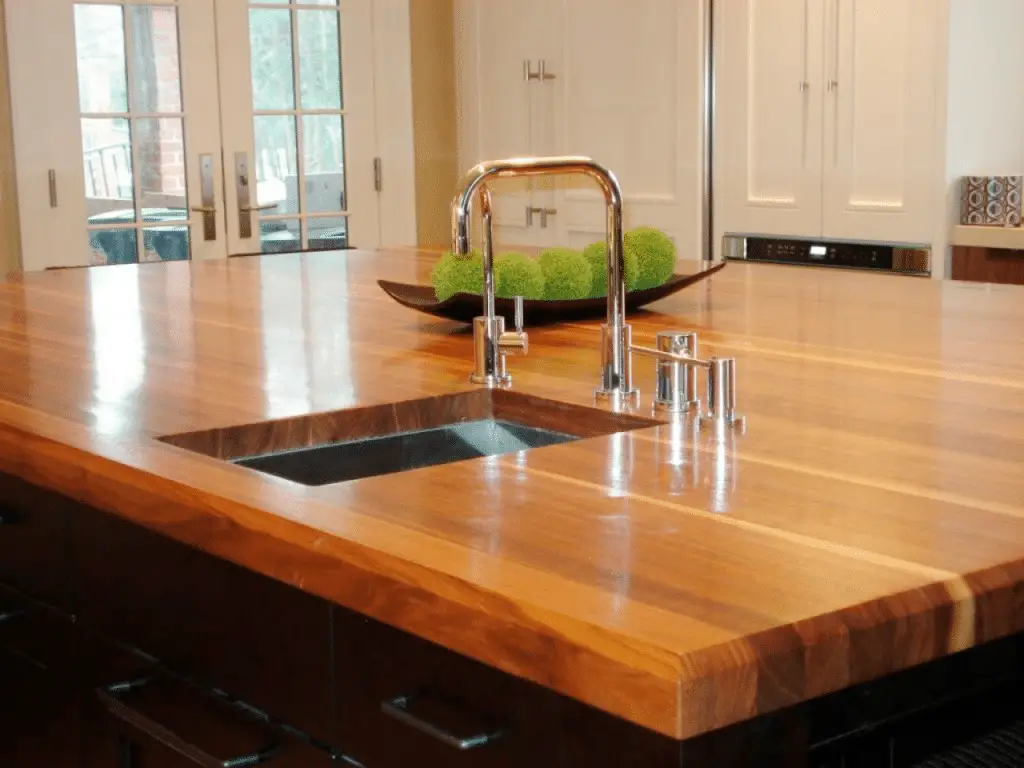 Not only does wood add a warm, inviting feel to any style kitchen, it can also be refinished numerous times and will age beautifully. It's sanitary when properly sealed, heat resistant, and gorgeous when mixed with other surfaces.
Most of us think of butcher block when we hear wood countertops, but there are other strong contenders like maple, mahogany, cherry, and madrone. Cost ranges from $30 to $100 per square foot.
Soapstone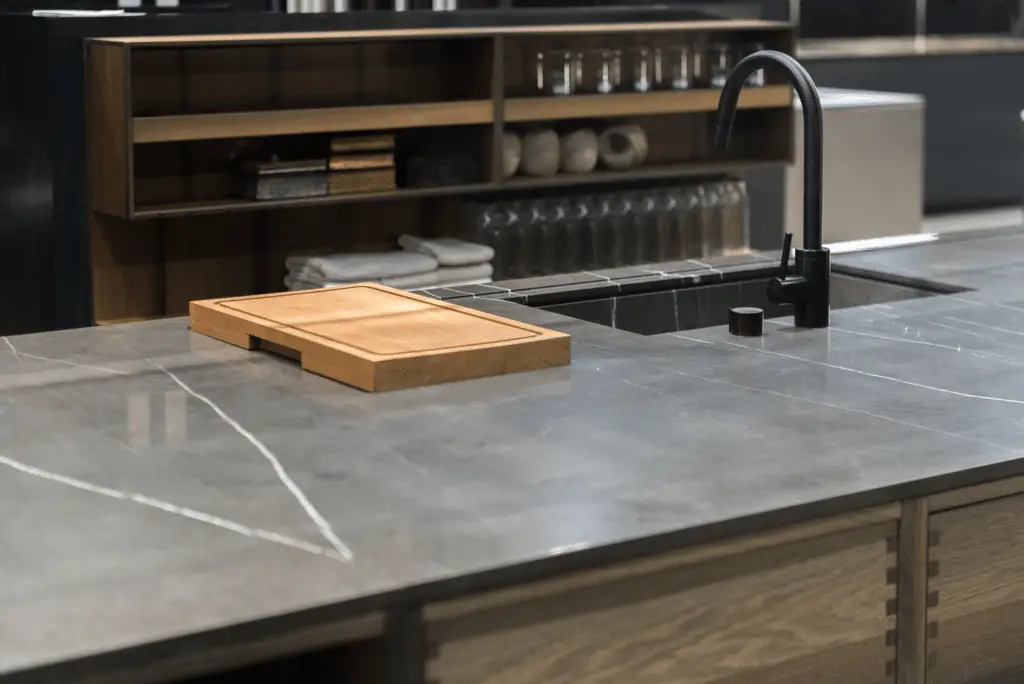 Soapstone is a surface you don't hear much talk about, but it can be a cool option. It's dense and non-porous but can be susceptible to scratches and nicks. Small imperfections can typically be buffed out with sandpaper. There isn't as wide of a selection, as soapstone is typically found in only gray tones with varying veining patterns.
In terms of maintenance, experts recommend applying mineral oil occasionally to help disguise small surface scratches. It can be left out to each naturally or sealed for a darker, richer look. Expect to pay $50 and up per square foot.
Quartz and Quartzite
Let's talk about the difference between two very popular options, quartz and quartzite.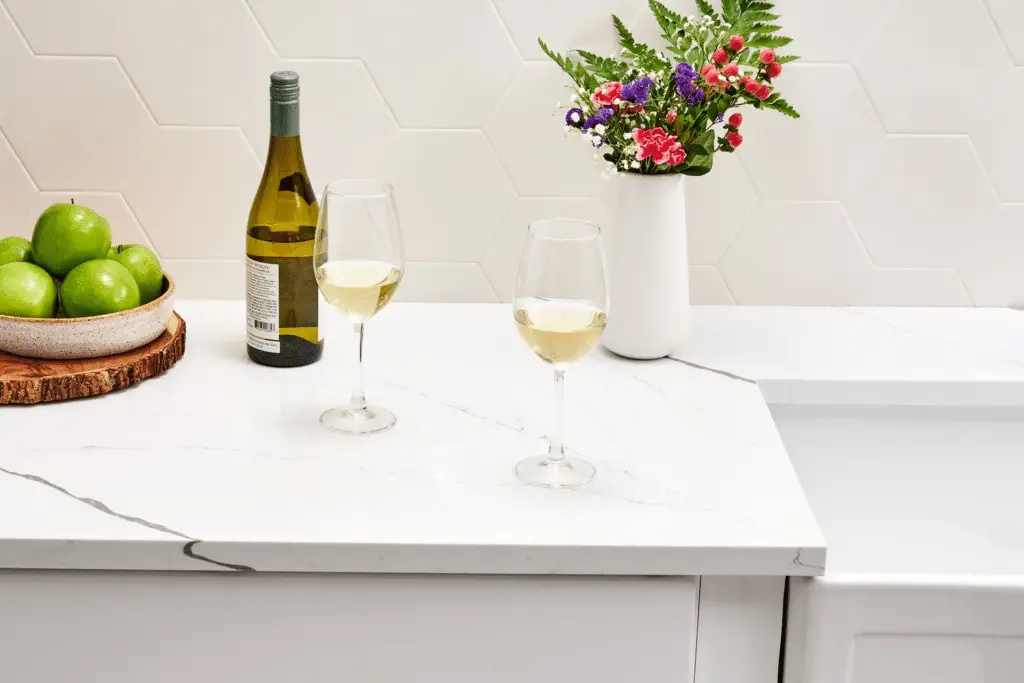 Quartz is a man-made surface that's stain, scratch, heat, acid, and impact resistant. It comes in a ton of colors and options and it doesn't need to be sealed. This is a super practical, durable, and easy-to-maintain choice, making it a favorite for families with young children or a love for wine.
Quartz countertops are made of 93% crushed natural quartz blended with color pigments and plastic resins. Costs start around $70 per square foot.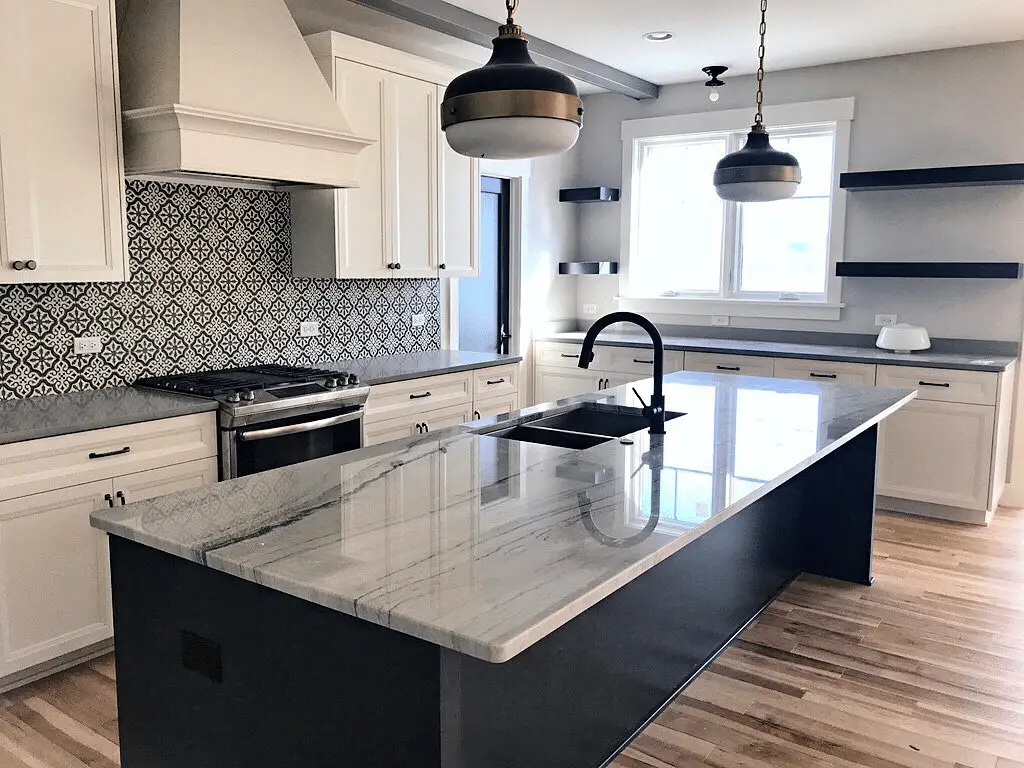 Quartzite is an all-natural stone and needs to be sealed and resealed once a year. This stone is available in a variety of colors, tones, and variances and veining. Quartzite is the more expensive and high-maintenance sister to quartz.
However, many homeowners love quartzite for its unique beauty and durability. If you're considering quartzite for your countertops, be prepared to spend upwards of $100 per square foot.
Concrete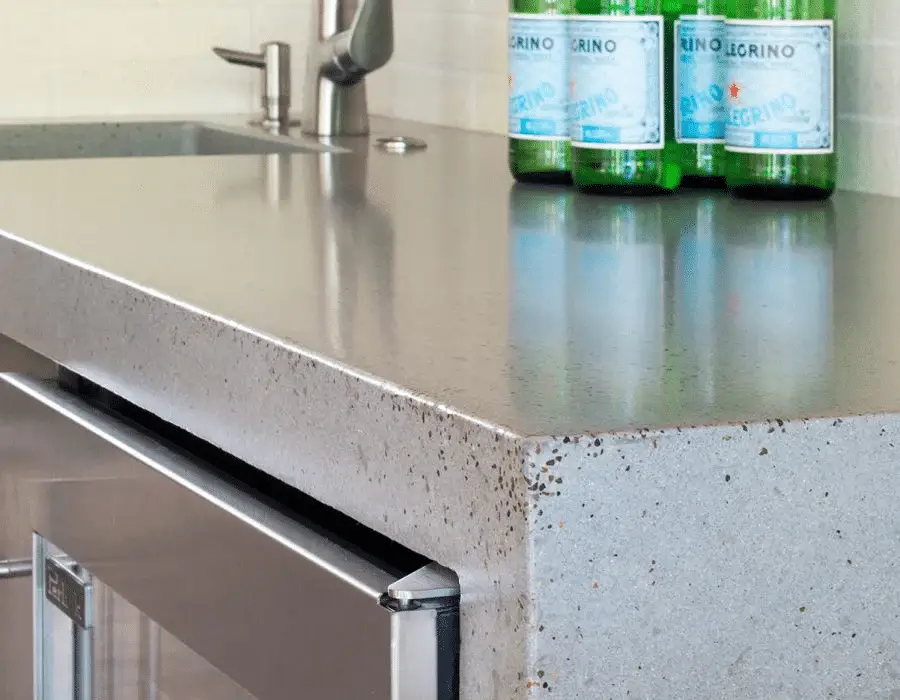 Concrete countertops are becoming increasingly popular, especially for those who want an industrial or modern look in their kitchen or bathroom. They are extremely versatile and can take on many different colors and looks. Concrete countertops can be poured in place or fabricated off-site and installed later.
One of the significant advantages of concrete countertops is that they are customizable in thickness, edges, color, and texture. They are also stain, heat, and water-resistant when sealed.
Another unique feature of concrete countertops is that seams can be filled so that it appears as one continuous surface. However, it's important to note that concrete countertops can be expensive, with prices starting at around $100 per square foot.
Laminate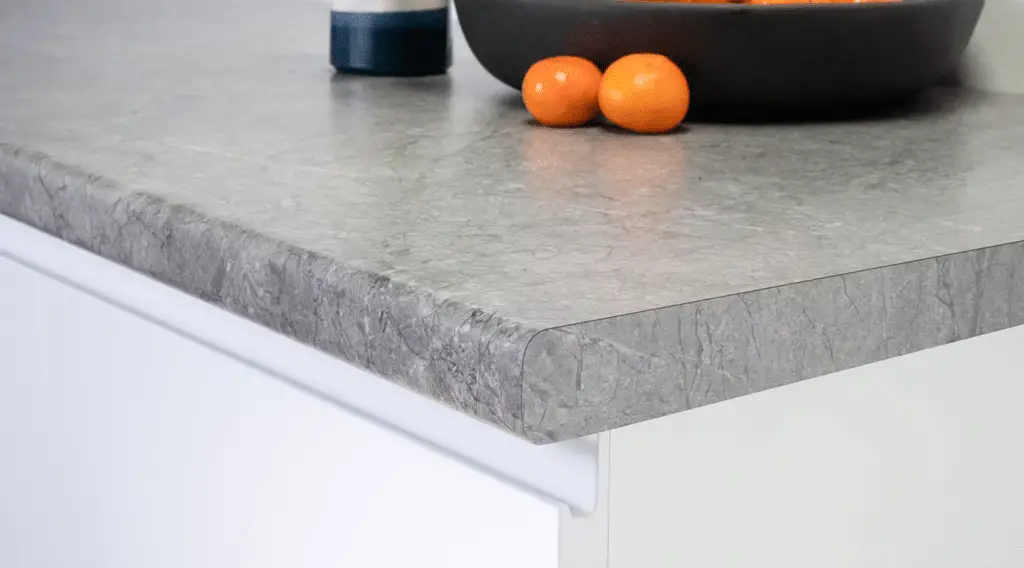 If you're looking for a budget-friendly countertop or a retro look, laminates could be a good option for you. Laminates keep costs in line, with prices beginning at around $5 per square foot. The material is fairly durable, but not heat resistant, making it ideal for something like a laundry room. Installation is relatively quick, which also helps keep costs down.
Which material above works best with a small kitchen?
When it comes to small kitchen countertops, durability is key. Small kitchens often see more use than larger ones, with limited counter space being used for prep, cooking, and even dining. That's why it's important to choose a countertop material that can withstand frequent use and potential spills and stains.
Materials like granite, quartz, and stainless steel are known for their durability and resistance to scratches, heat, and stains. They also require little maintenance, making them ideal for busy small kitchens. On the other hand, materials like laminate and wood may not hold up as well to daily wear and tear.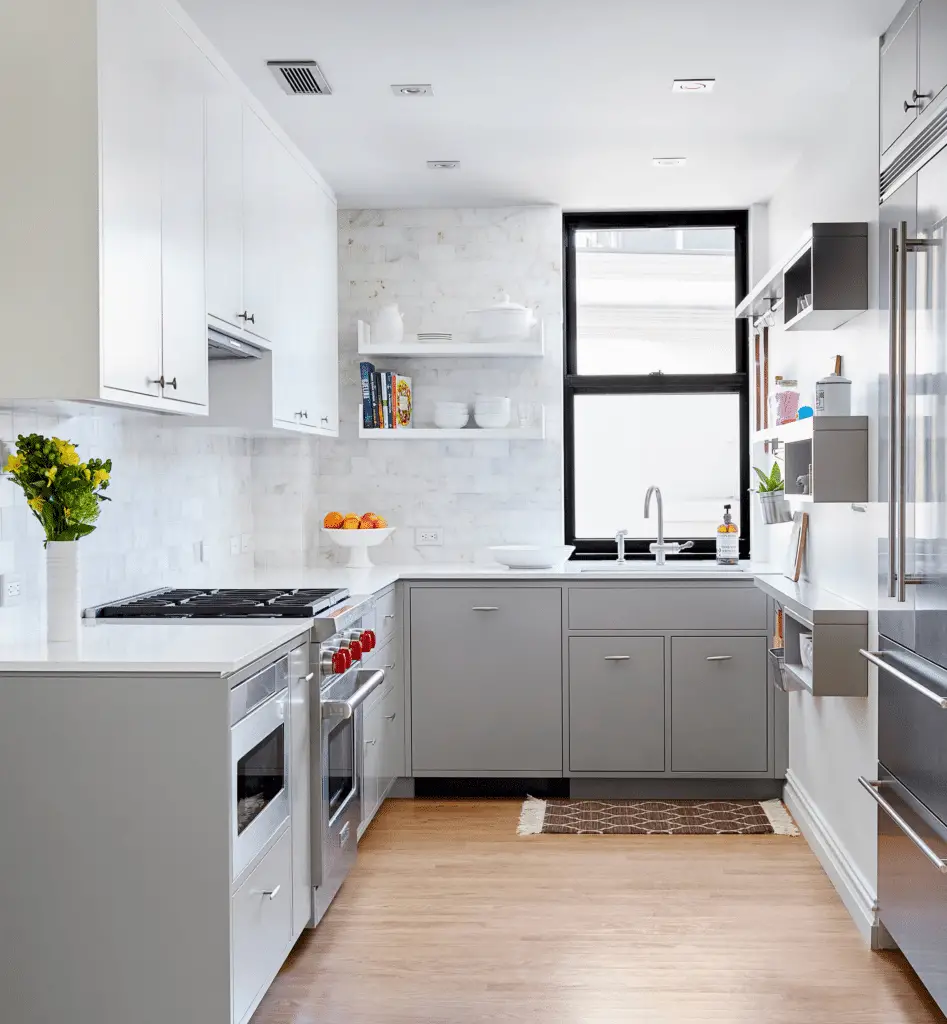 In addition to durability, it's important to consider the visual appeal of the countertop material. Since small kitchens often lack natural light and space, choosing a light-colored or reflective material can help create the illusion of a larger, brighter space.
Ultimately, the best countertop material for a small kitchen will depend on individual needs and preferences. However, prioritizing durability can help ensure that the countertop will last for years to come and withstand the demands of daily use.
Conclusion
In conclusion, choosing the right countertop material for your space and lifestyle can be a daunting task. It's essential to consider your budget, maintenance requirements, and desired look and feel before making a decision.
Whether you're looking for the natural beauty of marble, the durability of granite, or the customization of concrete, there's a countertop material that will work for you. We hope this breakdown of different countertop materials has helped you make an informed decision for your next remodel project.