Hey, fellow tiny house fans! Are you looking for ideas for tiny house kitchen sinks? You've arrived at the correct location! To assist you in making the best selection possible, we've gathered some professional advice from our friends who have lived in tiny houses, RVs, and vans.
Therefore, let's get started and look at the top tiny home kitchen sinks on the market. With our assistance, you'll be washing dishes with a smile in no time!
Some links in this post are affiliate links. If you click and buy, I may get a commission with no extra charge to you. I only suggest products that add value. See the site's disclaimer for more information.
Factors to Consider When Choosing a Tiny Home Kitchen Sink
Size matters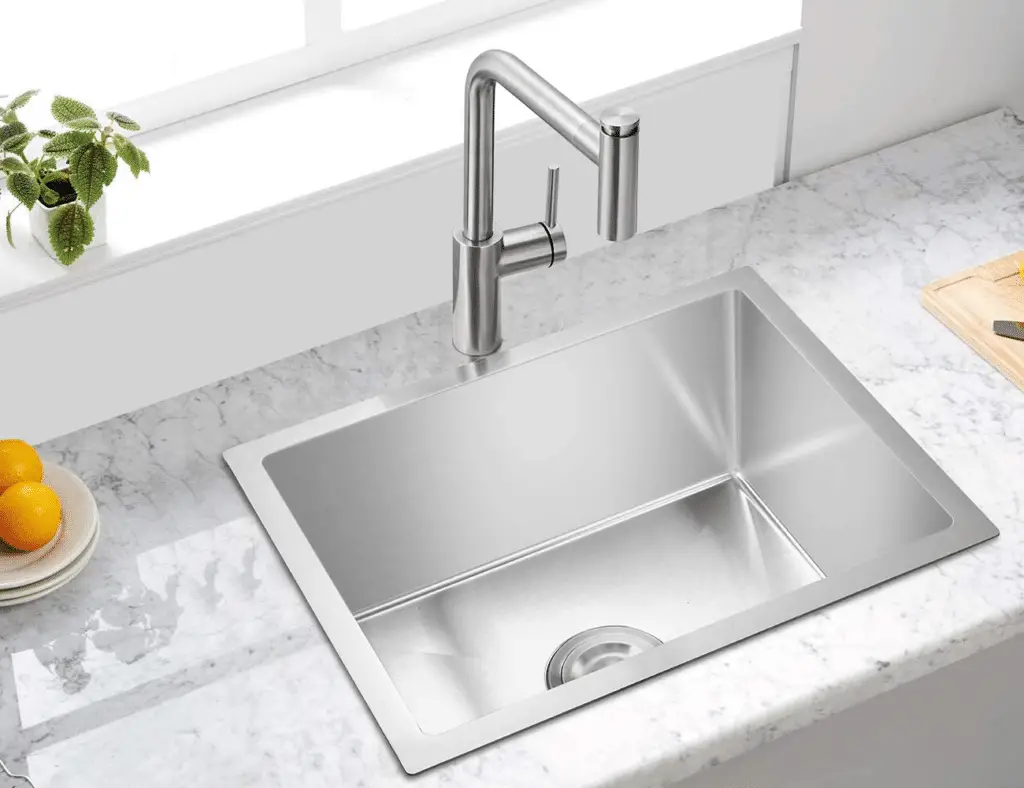 Let's start with size. No, we're not talking about the size of your little house (though that's important, too!). We're discussing sink size. Every inch counts in a small home kitchen.
You don't want a sink that takes up valuable counter space or makes it difficult to move around in the kitchen. On the other hand, you don't want a sink that's so little that you can't even fit a pot in it. It's like Goldilocks and the Three Bears: you want the exact sink!
Hence, before you start looking for a sink, measure your counter space and evaluate how much space you need for your daily dishwashing routine. A sink that is too big or too small will make your tiny home kitchen feel like a nightmare.
Type matters
With limited space to work with, it's essential to choose a sink that not only fits within the dimensions of your tiny home but also meets your specific needs. Here are some of the most common types of sinks that can fit in a tiny home kitchen:
Undermount Sink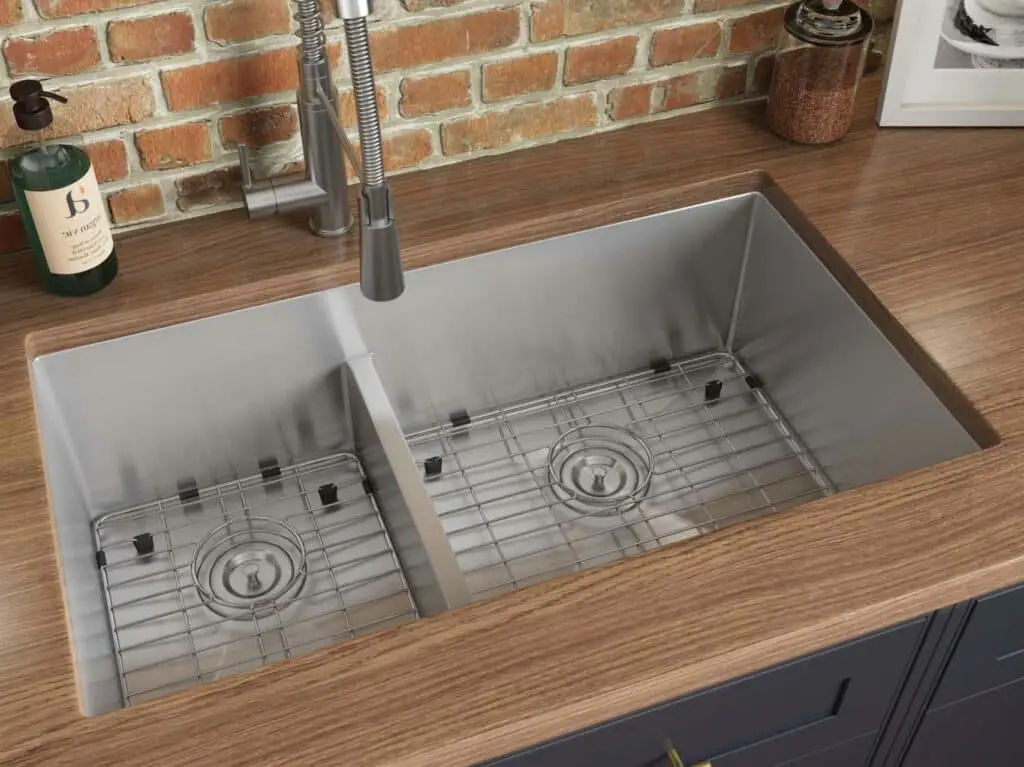 An undermount sink is installed beneath the countertop, making it a popular choice for small house kitchens. It takes up less room and has a sleek and seamless appearance.
Undermount sinks, on the other hand, require professional installation and may be more expensive than other types of sinks. Also, undermount sinks take up more space underneath, which can be valuable in a small kitchen.
Drop-in Sink
Drop-in sinks, also known as topmount sinks, are mounted on the countertop. They are typically less difficult to install than undermount sinks and are available in a variety of sizes and materials.
Read more about Undermount sink vs Topmount sink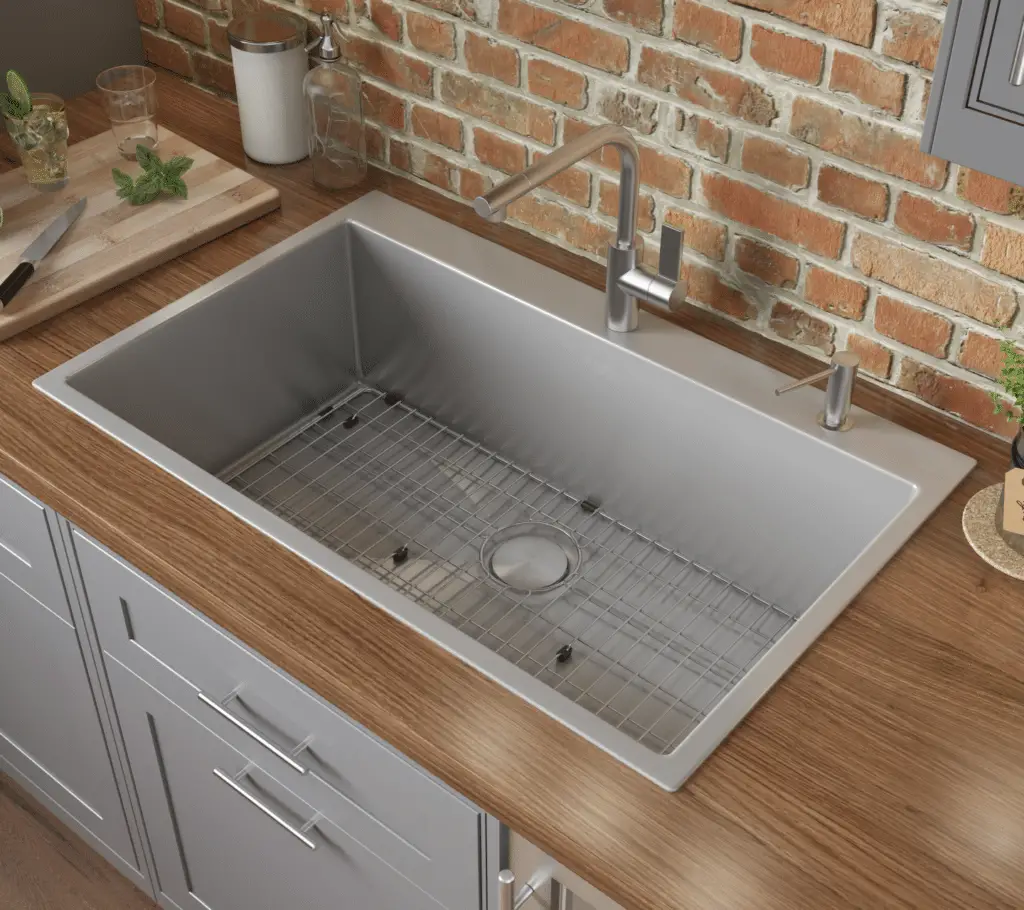 Corner Sink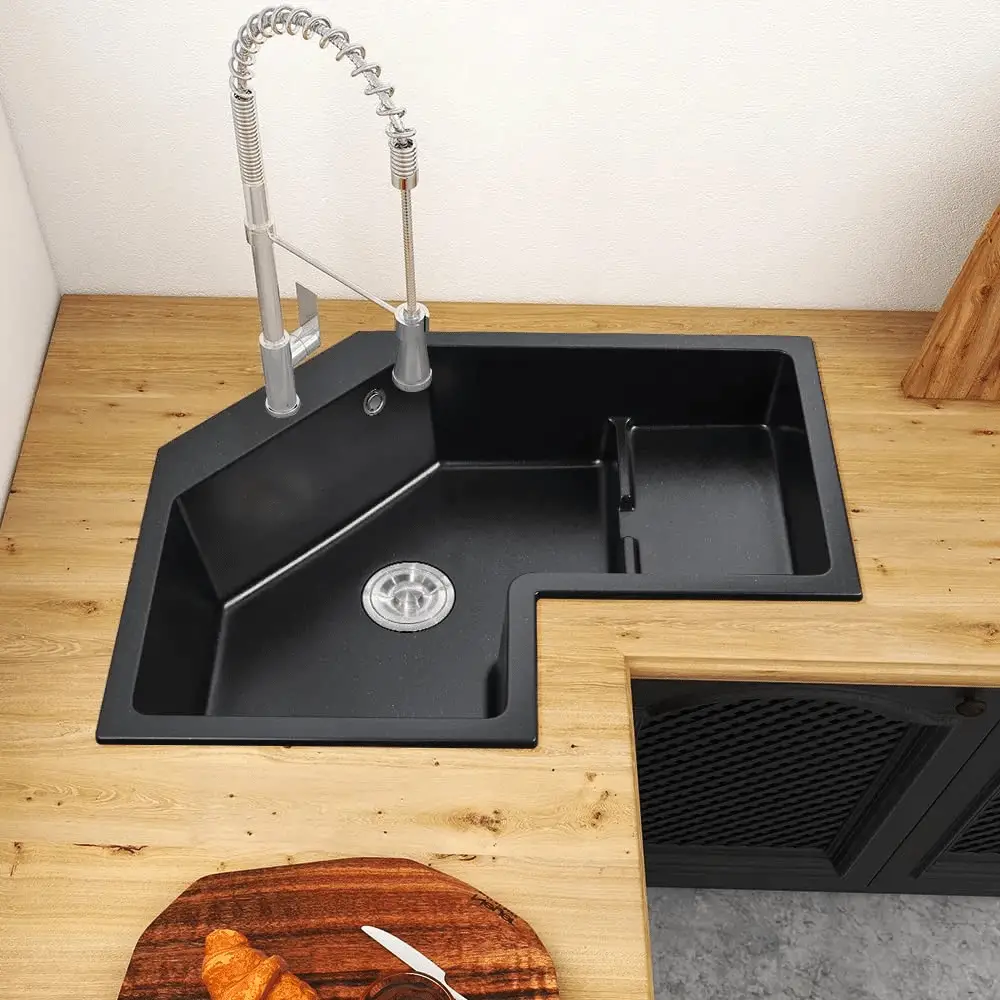 Corner sinks are an excellent choice for tiny home kitchens since they utilize space that would otherwise be wasted. They can be installed in the corner of the countertop and come in a variety of shapes and sizes.
Double Sink
If you need more space to wash dishes or prepare food, a double sink may be the way to go. Double sinks have two basins that can be used for different purposes simultaneously.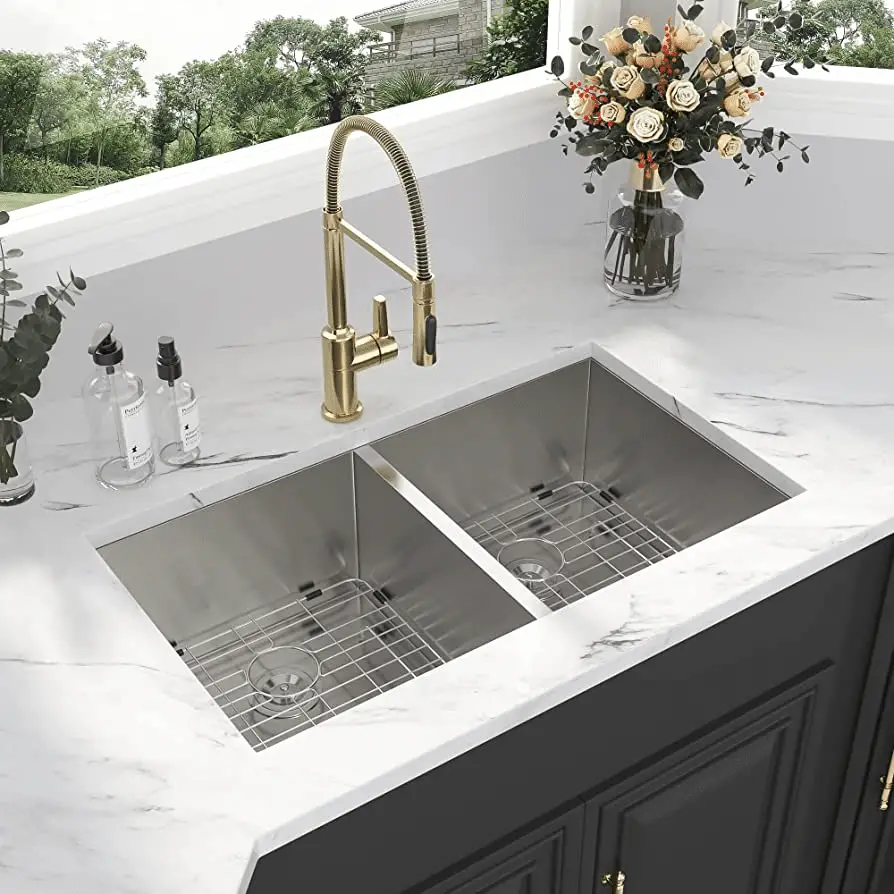 Farmhouse Sink
Farmhouse sinks, also known as apron-front sinks, are a popular choice for tiny home kitchens due to their deep basins and stylish designs that create a focal point. They are put in place by leaving the front of the sink open. They can give your kitchen a rustic or modern look. However, this type of sink often takes up a lot of space.
Freestanding Sink
Freestanding sinks are not attached to the countertop and can be moved around as needed. They are a good option for those who want a more flexible kitchen layout.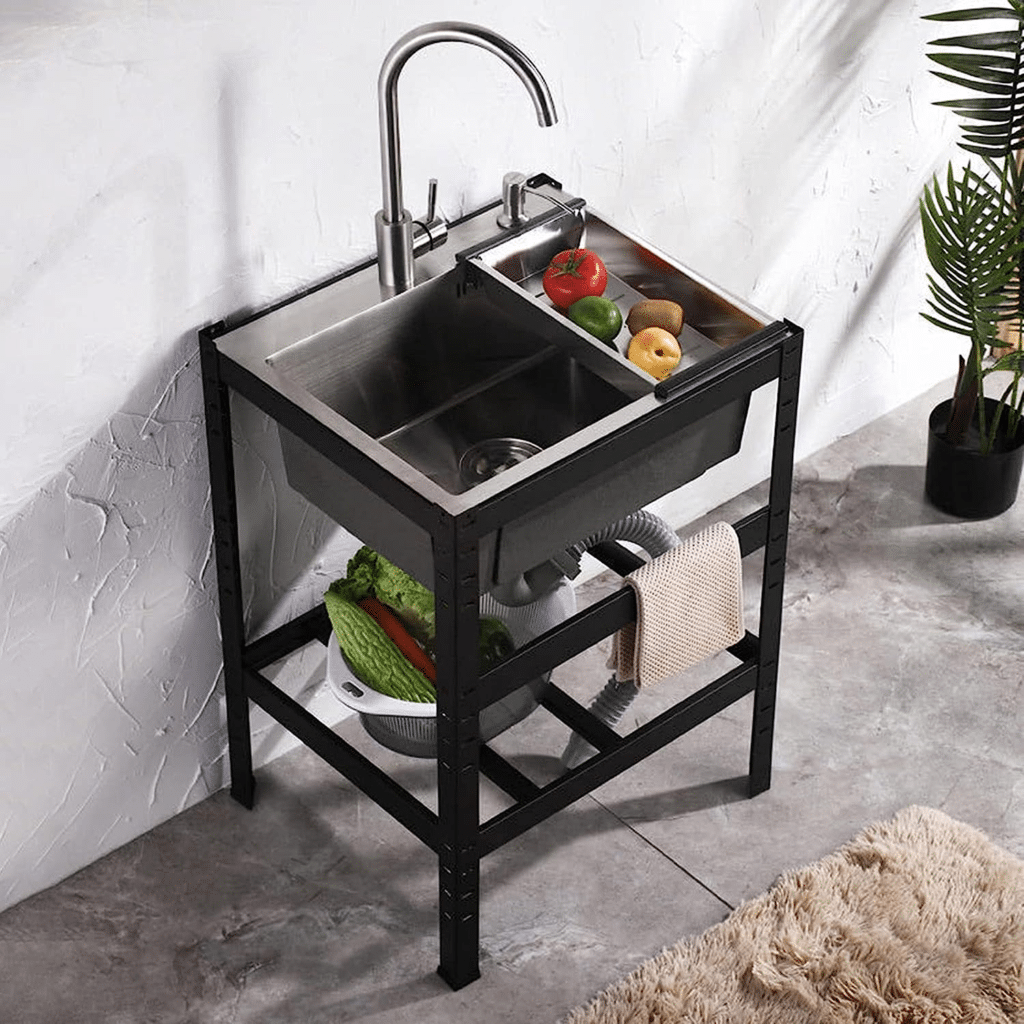 No matter which type of sink you choose, it's important to consider the size and material of the sink to ensure it fits in your tiny home kitchen and meets your needs
Material Matters
When it comes to choosing a tiny home kitchen sink, the material is just as important as the size and type. There are a variety of materials to choose from, each with their own pros and cons.
Stainless Steel
This material is often used for tiny home kitchen sinks because it is strong and looks nice. Greg, a friend of mine who lives in a van, has a stainless steel sink that has proven to be as sturdy as a superhero on the road. One alternative for stainless steel is composite, which also sturdy with some style. Read more about stainless steel vs composite kitchen sink.
Cast Iron
While not as common as stainless steel, cast iron sinks are still a great option for tiny homes. They are durable and can come in a variety of colors to match any aesthetic. Plus, they are also heat-resistant.
Ceramic
For those who are looking for a sink with a touch of elegance, ceramic is a great option. My friend Jenny, who loves to decorate her condo kitchen, has a beautiful ceramic sink that adds a touch of sophistication to her space.
Copper
If you want to make a bold statement in your tiny home kitchen, consider a copper sink. They are a bit more expensive than other materials, but the unique and rustic look can be worth it. Plus, over time, the sink will develop a patina that adds to its character.
Some advance features for space-saving purpose
Do you recall what this article's final purpose was? It's about a little kitchen where every inch counts.

Aside from size and layout, there are a number of other space-saving characteristics to consider when selecting a kitchen sink for your tiny home. Look for sinks with built-in cutting boards or over-the-sink drying racks. They might help you make the most of your counter space and make the sink area more functional.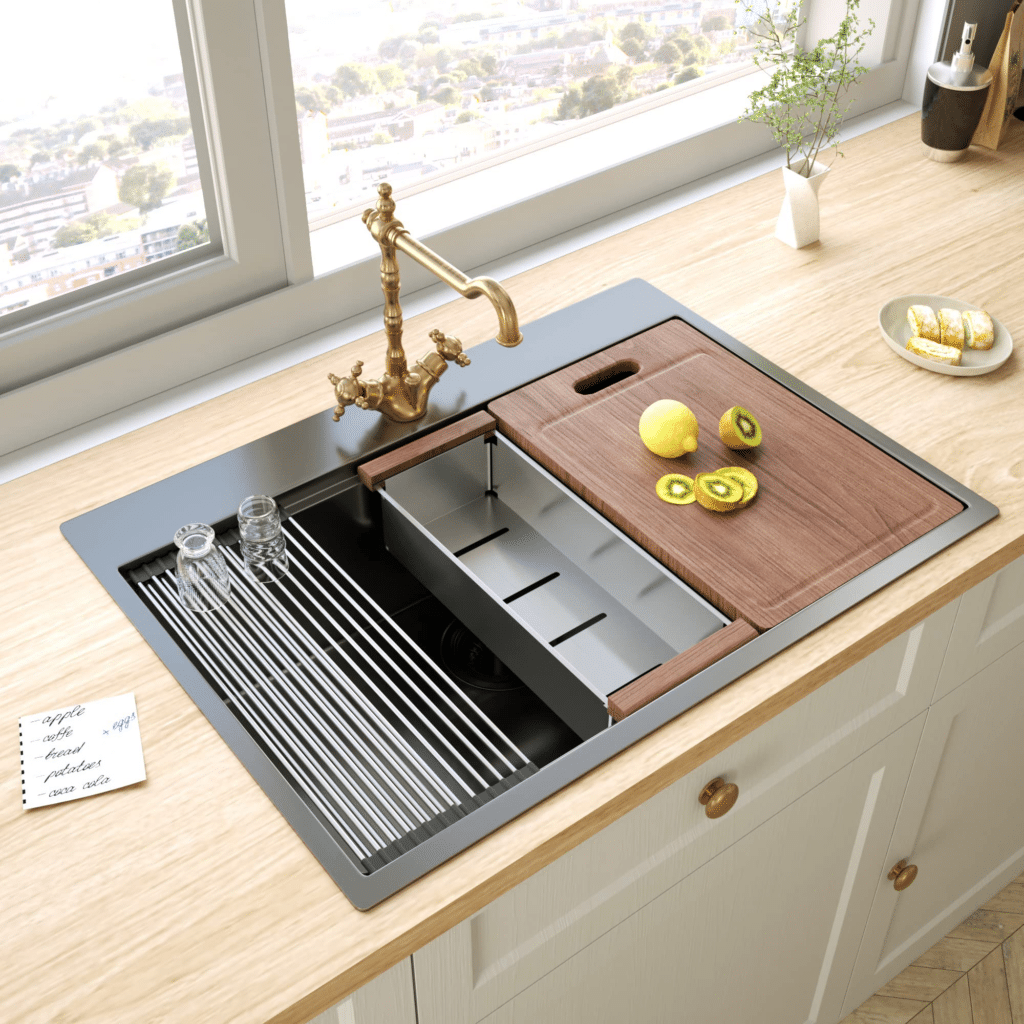 Some sinks have built-in garbage disposals or soap dispensers, which can help keep your countertop clear of extra stuff.
Finally, think creatively and put usefulness above aesthetics when selecting a space-saving sink. Remember that the more practical and effective your sink is, the more space you will have in your kitchen.
But we don't want to be too forceful here, because some people prefer the overall appearance of the kitchen, while others want a multi-function sink. That's all about your choice and… the area below.
Mind your budget
Ahh, budget, budget…the final boss!
When purchasing a kitchen sink, just like anything else, you want to make sure that you're getting the best value for your money without sacrificing quality. Fortunately, there are many options available to fit different budgets. From affordable stainless steel sinks to more expensive options like cast iron and ceramic, there's a sink out there for everyone.
To make your search easier, we've also included below section of the best picks so you can save time researching and find the perfect sink for your tiny home kitchen.
Our Favorite Tiny House Sinks
This sink is perfect for any small kitchen because it works well and is easy to install. The 3MM T304 Stainless Steel rim ensures a sturdy overmount installation, while the 18 GAUGE sink body ensures longevity.
The integrated ledge of the sink allows you to add unique accessories like the included SOLID WOOD CUTTING BOARD, DISH GRID, and DRAINER to expedite meal prep and cleanup without taking up counter space. And with its square shape, this sink will make your small kitchen look neat and organized.
Not only is the Lordear Undermount RV Prep Sink a high-quality and durable option for your bar or wet bar, but its compact size makes it the perfect fit for those narrow counter tops. With its X-shaped diversion waterlines and sloped bottom, you can trust that this sink will drain quickly and easily, without any blockages.
Plus, the included drain assembly with basket will help you keep your sink free of debris and running smoothly. And with its commercial grade brushed surface, not only is it resistant to scratches and corrosion, but it's also a breeze to clean.
With its compact dimensions of 15" x 15" x 10" and 10" depth, this gold bar sink is deep enough to clean glasses and dishes while saving precious counter space. Made of high-quality stainless steel and featuring an R10 round corner for easy cleaning, X-type drain line for quick drainage, and 16-gauge thickness for durability, this small bar sink is both practical and stylish.
Its integrated ledge design adds even more functionality, and when paired with the matching gold sink accessories, this gold bar sink is sure to impress guests and make your kitchen shine.
This elegant white sink is both fashion-forward and practical, complementing any decorative style. Plus, its smaller size makes it a great fit for small kitchens or any size kitchen looking to save space. With a smooth and non-porous glazed surface, this single bowl farm sink is easy to clean and resistant to stains and scratches.
But that's not all – the designer has boldly stepped away from traditional rectangular sinks and given this one a stylish and unique trapezoid shape, adding an unexpected modern twist to your kitchen. Made of premium ceramic, this sink is built to last and maintain its luster year after year.
The EcoChannels Kitchen Sink is the ultimate workstation for your kitchen needs. Made with durable T-304 grade stainless steel, it's hydrophobic, scratch-resistant, and won't fade even after long-term use. The sink features a single-level track for accessories, maximizing countertop space. Its R10 smooth arc surface is easy to clean and safe to use.
It also has anti-condensation and acoustic coatings that keep water from getting in and quiet down the noise of the water moving through. Its compact size makes it perfect for small kitchens, while included accessories like a wood cutting board, bottom rinse grid, and strainer make it versatile and convenient.
That's it!
And there you have it folks, the ultimate guide to tiny home kitchen sinks! We hope this post helped you find the perfect sink for your cozy abode. Remember, just because your kitchen is small doesn't mean your sink has to be.
With the right sink, you can wash your dishes and your dreams in style. So go forth and make your tiny kitchen the envy of all your friends (and their much larger kitchens). Cheers to tiny sinks and big imaginations!